We knew that we wanted to have a different kind of trip in Laos. We wanted to explore the country as much as possible on a motorbike. We heard about a motorbike rental company that allowed customers to rent a bike in Luang Prabang and to give it back in Vientiane. We also heard of a famous loop that we could do further south. We decided to leave from Luang Prabang, go down south, make the loop and get back to Vientiane.
We met Tim, the owner of the shop that allowed us to do what we wanted and negotiated a price with him. After checking the motorbikes he had we chose a Zongshen 150cc, a chinese bike I've never heard about before but seemed perfect for our trip. We then got to the conclusion that it would be better to take just one of the backpacks. We then loaded everything we needed into mine, as it was a bit larger than Magda's and he taught us how to tighten it well to the bike in order for it not to fall or create unbalance.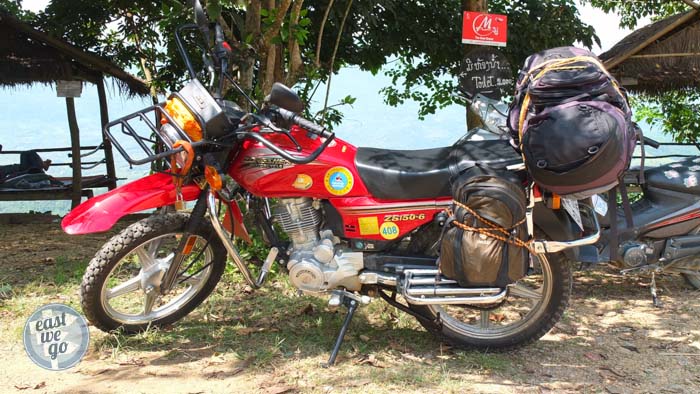 At first we rented the bike for 4 days and agreed that if we needed more time all we had to do was call him and extend for as long as we wanted. We would then pay the difference in Vientiane. Magda's backpack was sent by mail by Tim to his store in the capital along with my passport that I gave him as a deposit.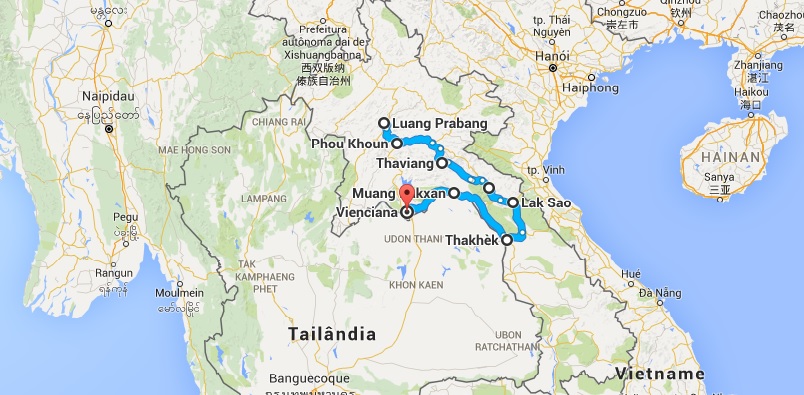 Day 1. Luang Prabang to Phou Khoun – 129km
The first part of the road to Phou Khoun goes through some hilly and green mountains and some interesting viewpoints. We didn't get any rain in this first day but I think we were very lucky as the road was still wet in some points. We saw some landslides that had happened not long ago. It is a very common problem around here.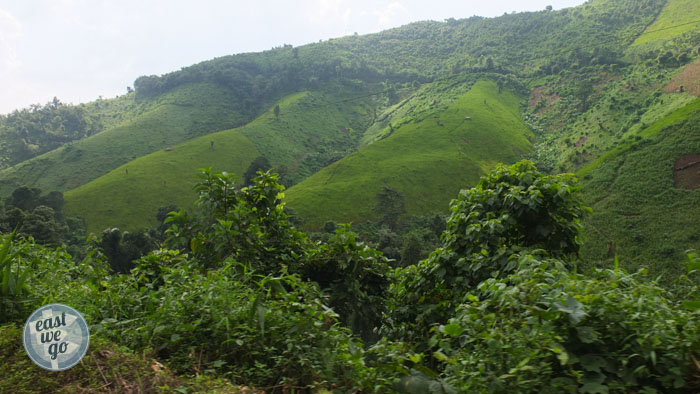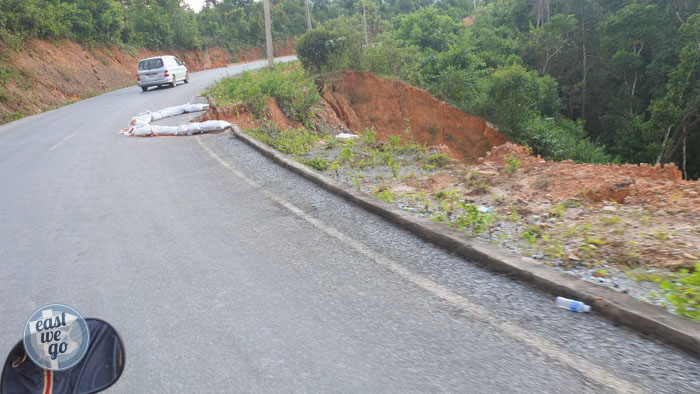 We passed through many small villages that lie on the side of the road and in one them something unthinkable happened. I wasn't riding more than 50 km/h on a straight road when a bunch of chicks decided to run to the very middle of it. I didn't even tried to dodge any of them to avoid an accident. I just hit the brakes with my hand and foot but didn't have enough time. It was a decision I have to make in a thousandth of a second and I think I did right. When we finally stopped a few metres ahead and looked back there it was, lying on the street, a dead little chick. We went back and asked, with hand signs, about the owner of the chick. Some old lady said that the owner was working on the fields and that there was no problem, that we could go. I took of my wallet to explain her I wanted to pay for it and she showed me 1 finger (not the middle one) so I gave her 10.000 LAK (1,22 USD).
She spoke no english at all but we managed to understand each other. While we were trying to communicate I accidentally touched with my leg in the exhaustion pipe of the motorbike and got burned quite badly. I poured some cold water on it and left.
We got to Phou Khoun shortly after and checked pretty much every guest house there. There were all so so dirty and none had Wi-Fi. We chose one close to the central roundabout for 80.000 LAK but it was also very dirty and full with mosquitoes, butterflies and geckos. We had no choice.
Phou Khoun is very small and has a small central market with food and is also very very dirty.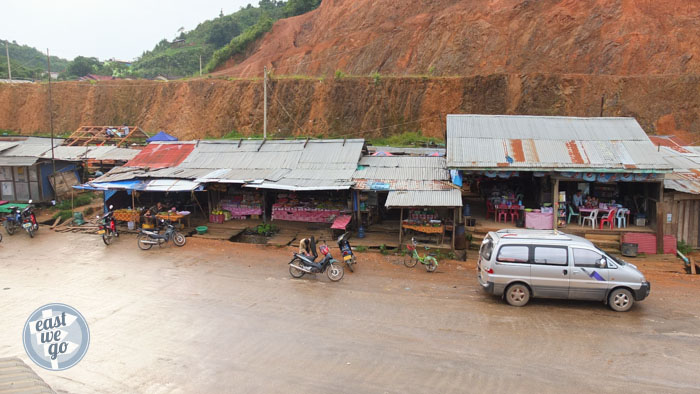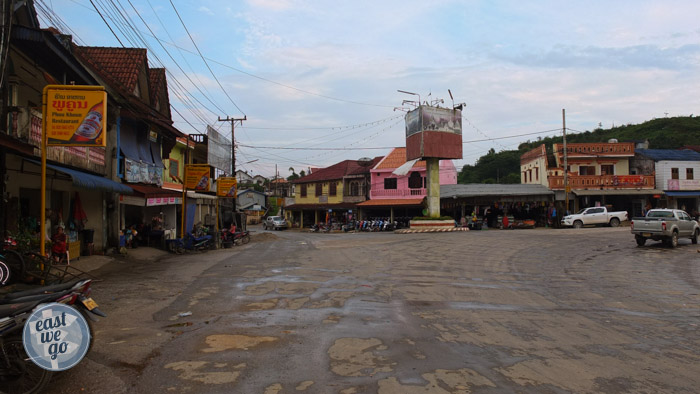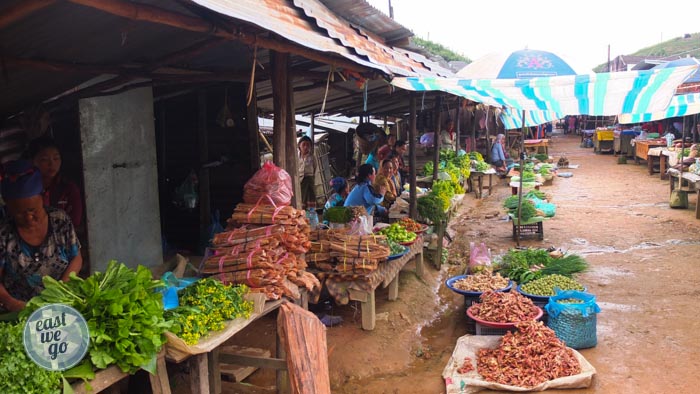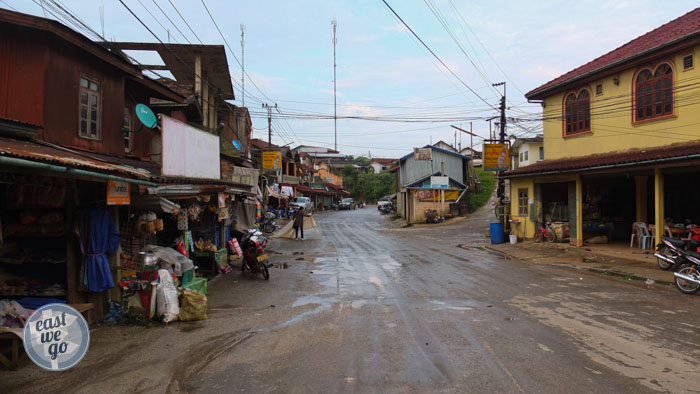 When we went for dinner we sat with a sixty-something year old guy that was riding his bicycle for one year and half through Cambodia, Vietnam and Laos. He is a Scottish and guaranteed us he really enjoys his drinking. He is writing his own blog  www.stillroamin.blogspot.com.
The restaurant had no menu and the only option was to eat chicken noodle soup.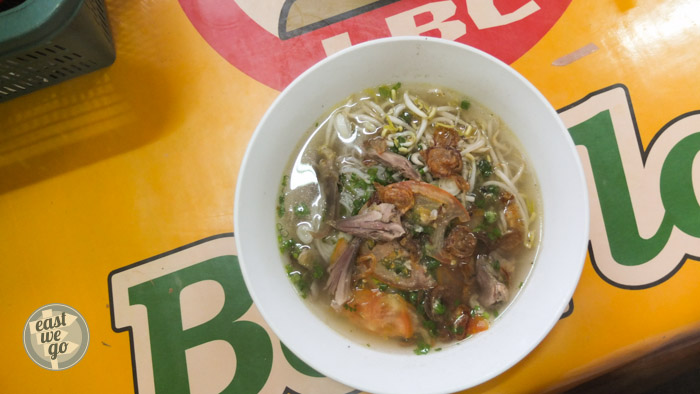 Day 2. Phou Khoun to Tha Vieng – 225km
We left early in the morning and after filling up the tank of our super bike in an improvised gas station we were again on our way.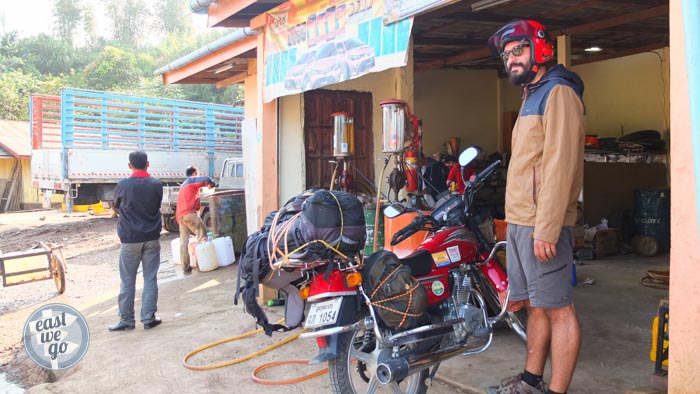 We went through some interesting villages and stopped for lunch and had some fried rice and sticky rice in a restaurant by a river. This place had some bugs to eat for sale. The food was very tasty. It's funny that even if the owners of the restaurants don't have anything you want for sale they will ask you to wait and go to the next shop and buy it for you.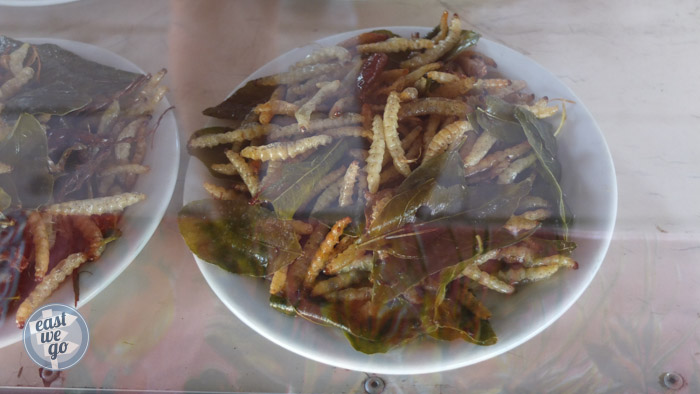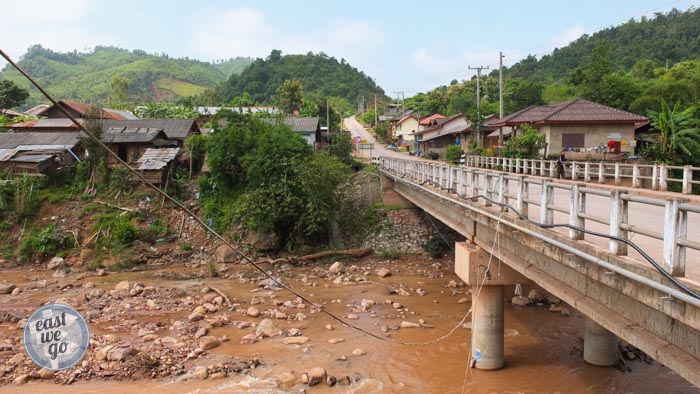 The mountains by now were getting lower and we could spot some plains every now and then.
I was feeling a bit sleepy riding my Zongshen so we stopped at a street mini-market to drink some coffee. I bought a necafé can and it was the dirtiest can I've seen in my life. Even after cleaning for a couple of minutes i drank it with a straw. Nobody spoke any english and when I tried to explain where I was from it wasn't possible.
Even after a kid with a jersey of the Portuguese national team joined us. I was pointing at the symbol in the jersey and repeating PORTUGAL but no…I showed them my ID card but no…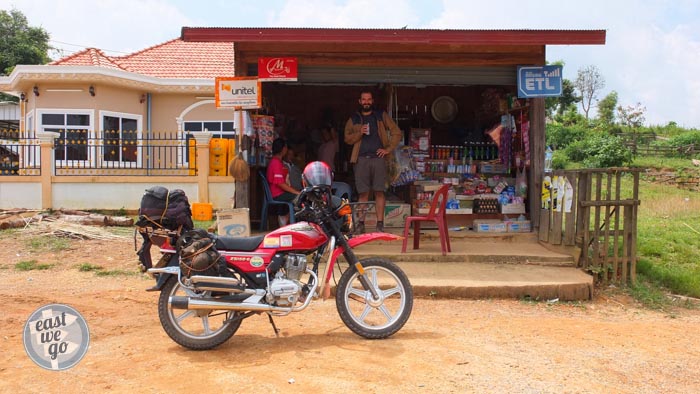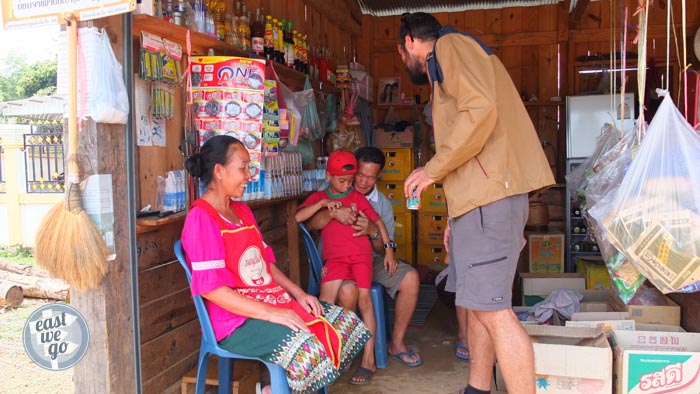 A few kilometres ahead we stopped to visit the Plain of Jars in Phongsavan. This is part of a series of 90 archeological places in the Xieng Khouang province. In Phongsavan is the most well known of these places and one of the only ones to be declared free of american unexploded bombs that are still in the fields since the Vietnamese war. It is a wide open area with hundreds of jar made or carved in huge stones. It's thought to have been used as burial sites for the dead in the Iron Age. The place itself is not the most interesting place in the world. Even the official photographers were sleeping like they were at home without worrying at all with the visitors.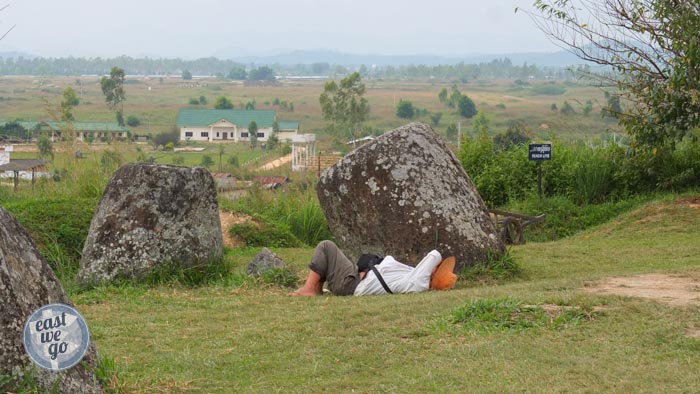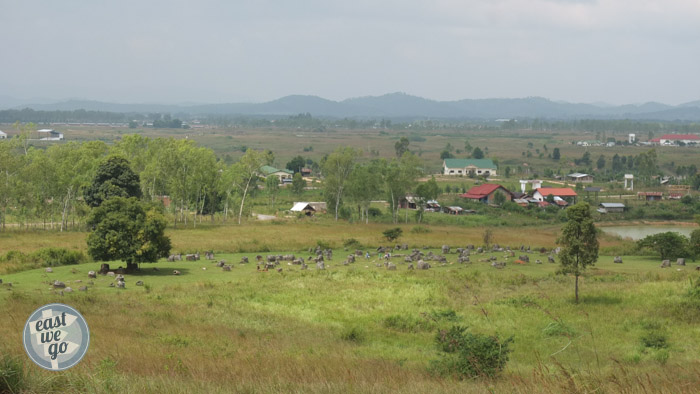 We stopped then in the village to get some money from the ATM and to eat something. We thought of staying there but it was still early and we had time to go to Tha Vieng.
We saw some more landslides. I think the only way to avoid these is pure luck.
In Tha Vieng we found a guesthouse for 60.000LAK. We realised quickly we were the only foreigners in the whole village. When we left for a walk, everybody gave a Sabai Dee (hello in Laotian). The houses are made of bamboo sticks and covered with leafs. They seem so fragile.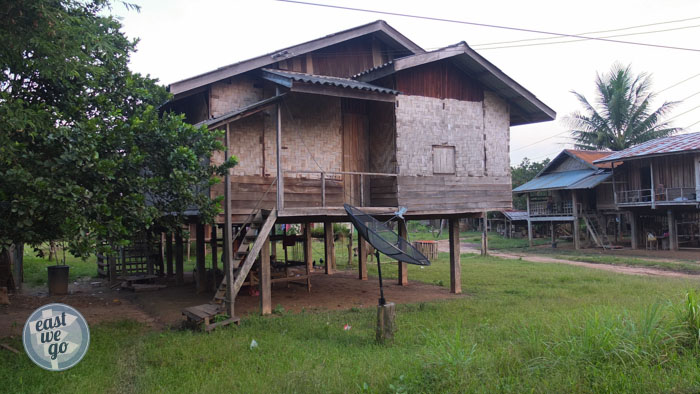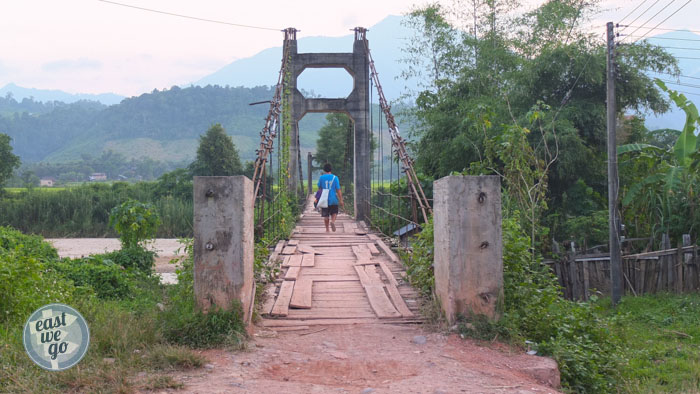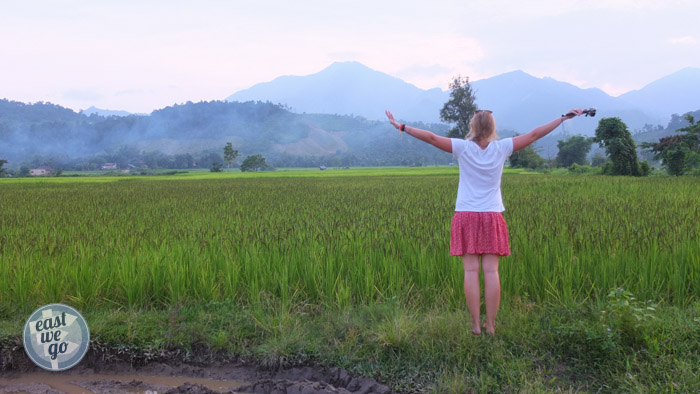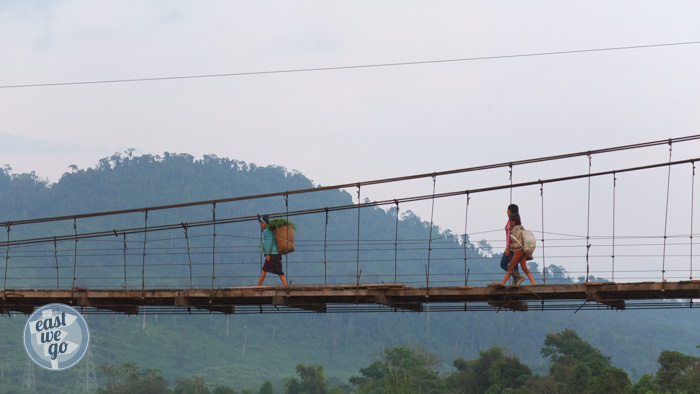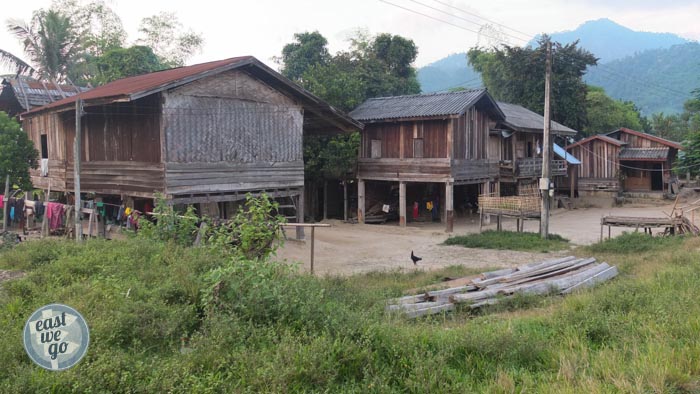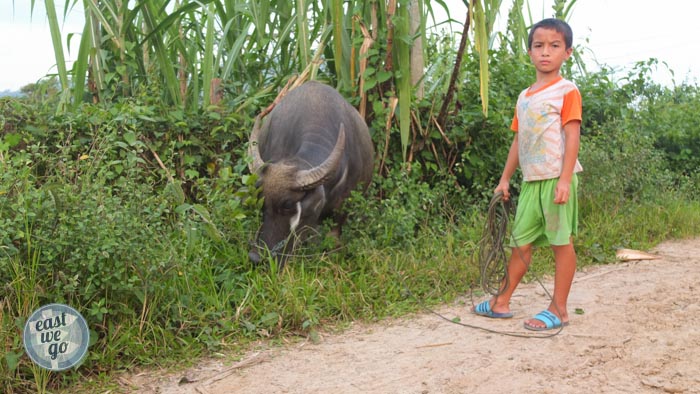 We stopped to drink a cup of tea and in the end they did not left us pay. I guess they were just happy we were there. I was 6:30 in the afternoon and it was getting dark. Everybody went home and there was nothing more for us to do but going to our room as well. There was no internet anywhere.
Day 3. Tha Vieng to Lak Sao – 244km
Our guesthouse was located inside a behind a gas station after filling up the Zongshen again we were back on the road. We stopped only in Thaton for breakfast by an old market and had again fried rice. The market looked kind of improvised. It had tin roofs and some wooden poles holding it all together. They sell all kinds of fruits and vegetables.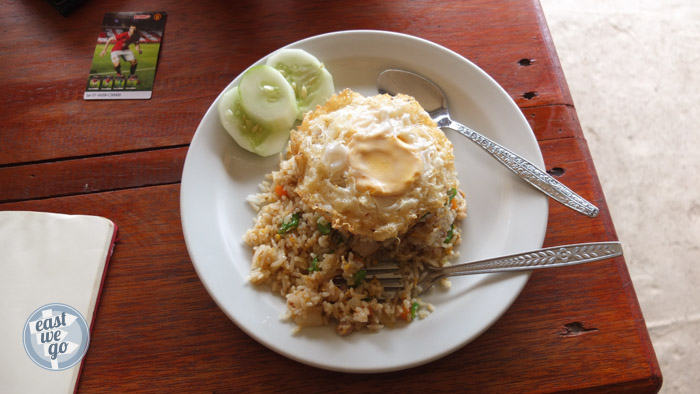 Magda wasn't feeling very well. She had stomach pains but nothing very strong so we decided to continue.
We crossed some bridges above green rivers and the landscape was invariably of a strong green.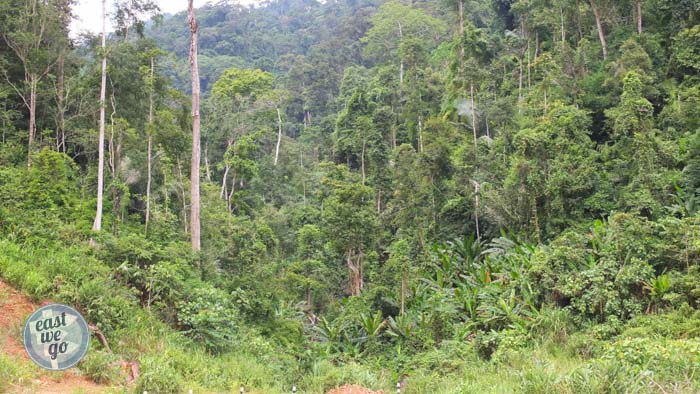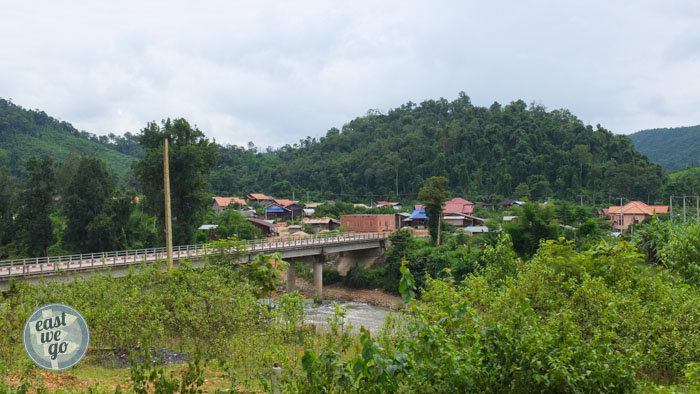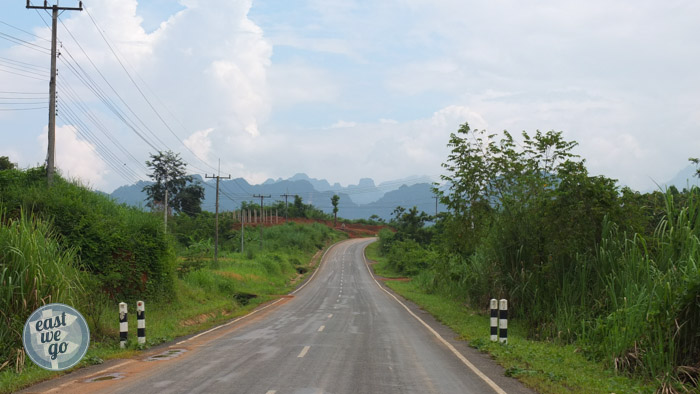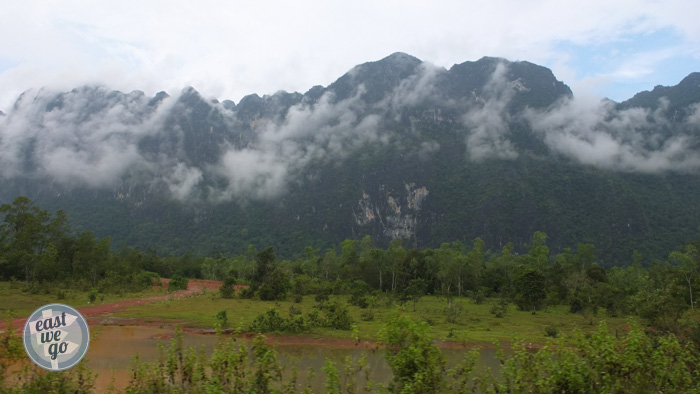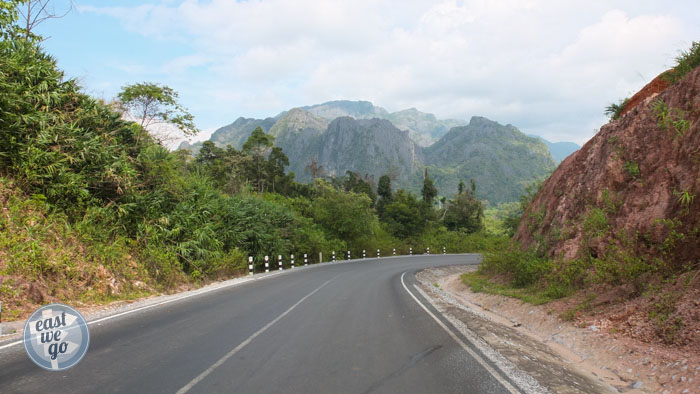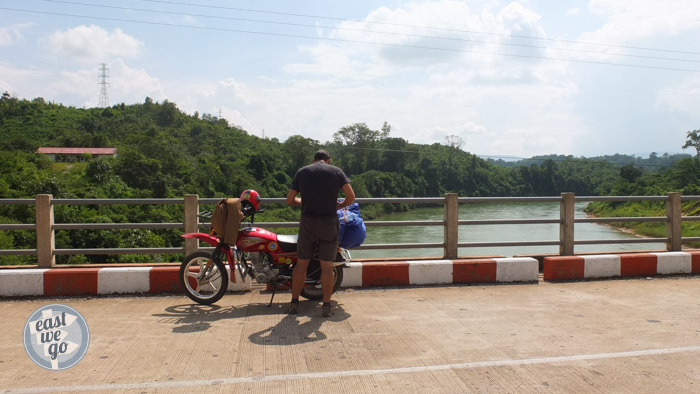 At some point, on a cross road, we had to make a decision. We were on the point of no return in the sense that if we wanted to go to Vientiane to visit a doctor for Magda was now or much later. I had to be sure she was ok before continue down as we were getting away from the capital now. If we had decided to go straight to Vientiane there, we could have reached it by the next morning. She decided to keep going.
After looking around in Lak Sao we found a place to stay with internet connection and a safe place to keep the motorbike for 60.000KIP.
We went through the central market, one of the dirtiest I've seen to this date. The paths between the tents are made of dirt and it was very muddy because of the rain. There were children running everywhere.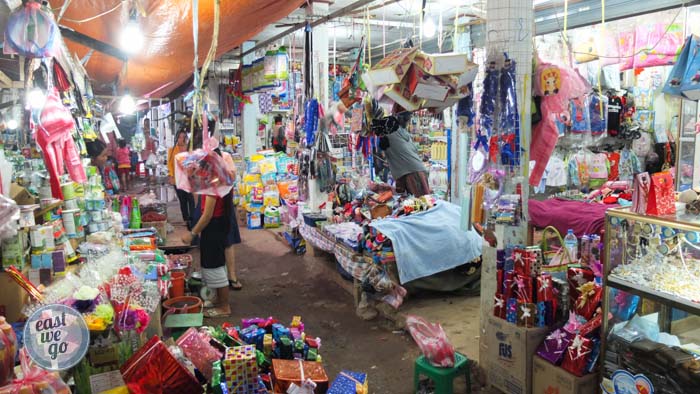 Magda was still complaining with stomach pains so we asked for a doctor and were told it should be very close to our hotel. When we finally found it we tried to explain "the doctor" with some gestures and after he called a "translator" he finally gave us some medicines.
When the time for dinner came we looked around and found a restaurant had goat and seemed to be an interesting alternative to the usual fried rice or noodle soup we'd been eating every day. It was a bad call. The sticky rice was hard and cold and the meat was like stone and all we could chew was the fatness of the animal.  Besides that we were completely eaten alive by the bug during the few minutes we were there.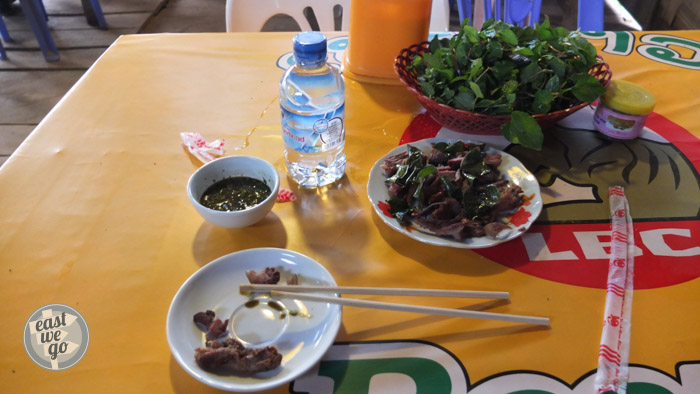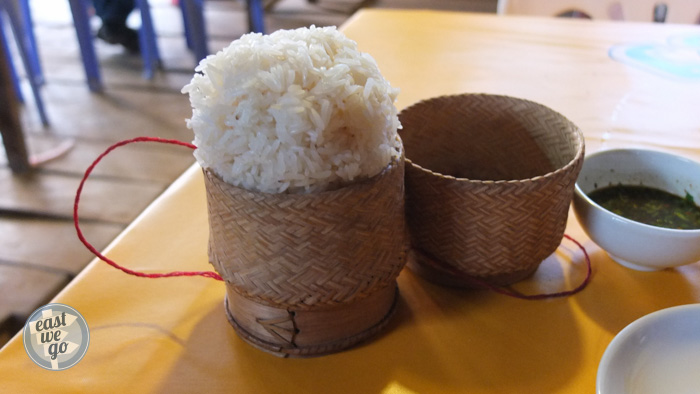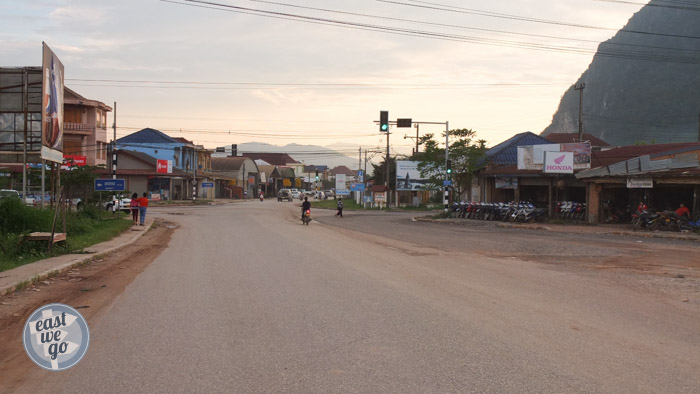 On the way back to the hotel we stopped in a mini market to buy some cookies to cheat the hunger we still had after our "dinner"
We thought we might have to stay there one more day and wait for Magda to get better and decided to check the following day.
Day 4. Lak Sao to Thakek – 146 km
Magda woke up much better and we decided to get back on the road. We 146 km ahead of us until Thakek.
We had our breakfast in a small restaurant that was wide open to the street and Magda had some rice noodle soup while I had a piece of chicken and sticky rice. Both dishes were delicious.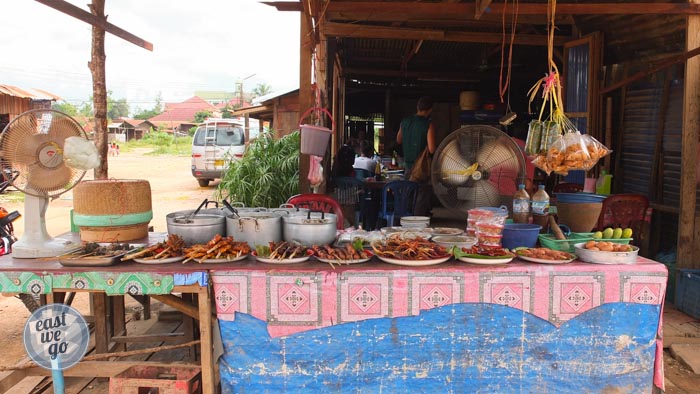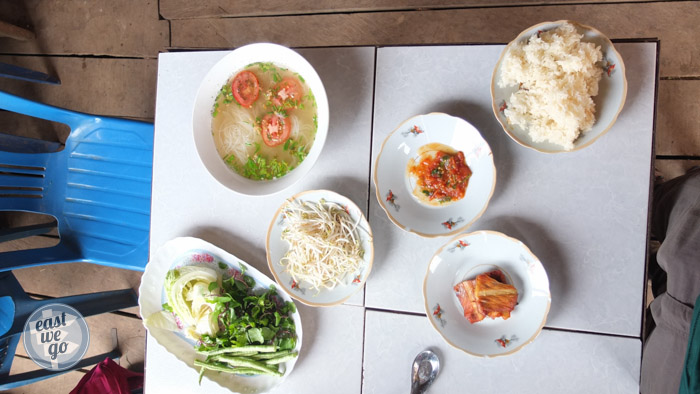 Despite the intense heat, the rain was threatening to fall down at any moment but there was nothing we could do besides hoping for the best.
A part of the road that connects Lak Sao to Thakek is completely ruined by a recent flood and muddy. I was finally ready to put to good use the off road tires of my little chinese. In one of the bigger holes full mud there were some water buffaloes refreshing themselves. They seemed so comfortable.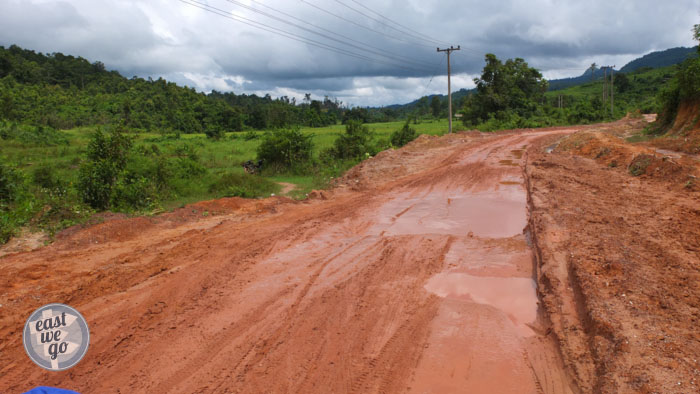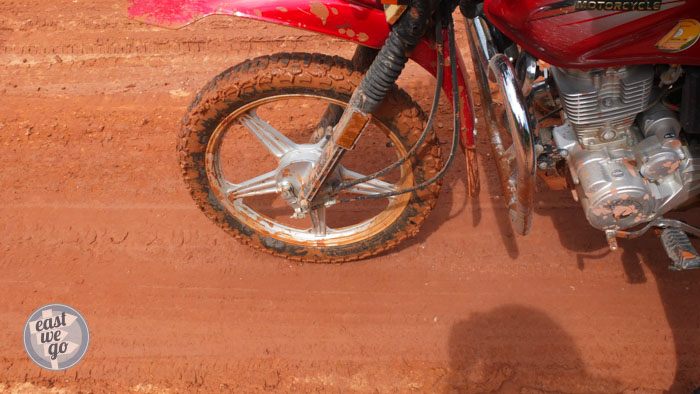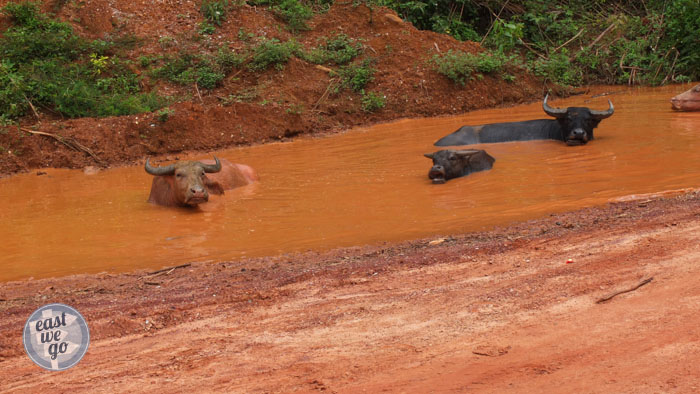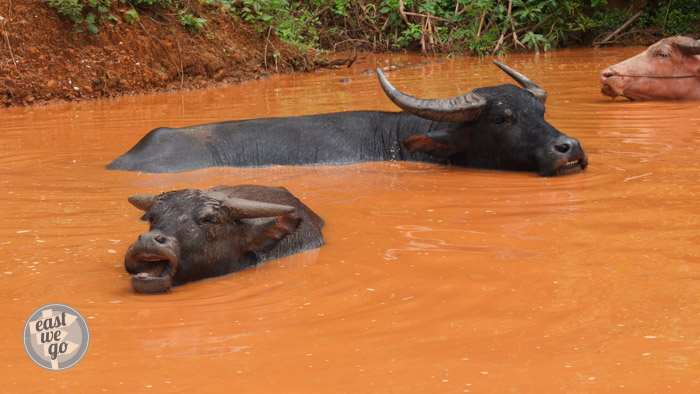 On the part of the road that crossed the biodiversity national park of Nakai and Nam Theun and the national park of biodiversity of Phou Hi Phoun we went through several lakes with logs of trees that seemed like they were floating in its clear crystal waters.  It's thousands and thousands of logs and it looks like they were put there on purpose by men.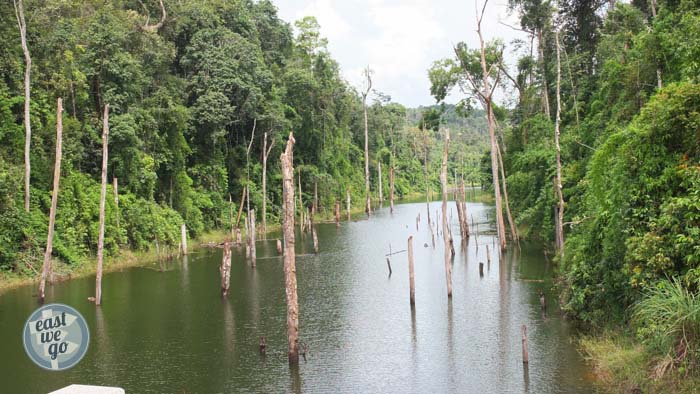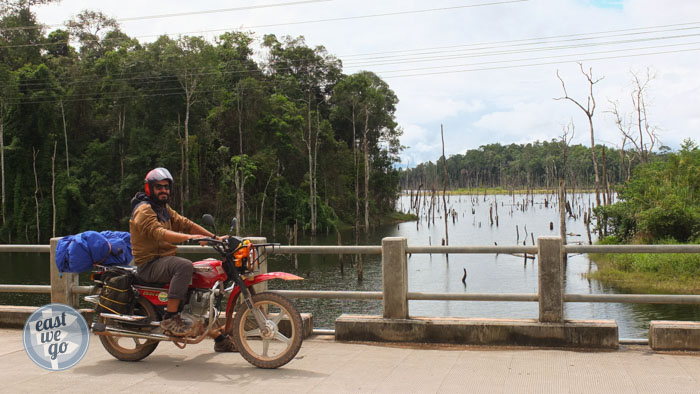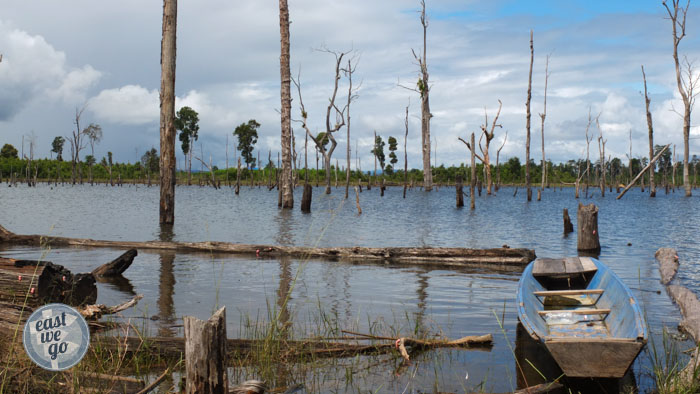 We visited a village by the road but just crossed it by bike and it took us no longer than 5 minutes. It was no more than half a dozen of dirt roads with houses made of wood and bamboo.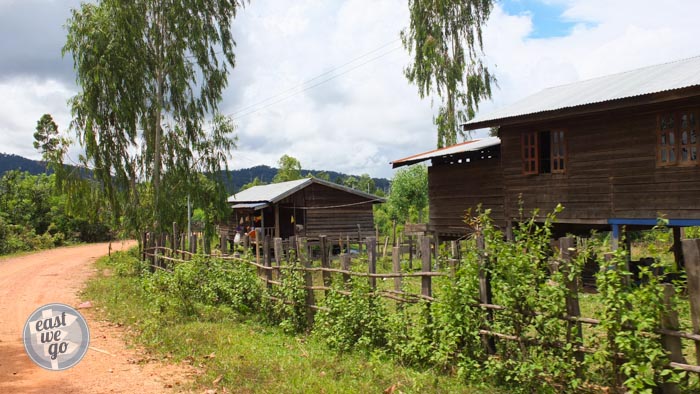 The rain was starting to show up. Initially very shy and didn't stop us from going our way. In the end it started raining cats and dogs and only three minutes after we found a place to shelter. It was enough to get completely wet. It was then that I realised my jacket is not as waterproof as it claims to be. We stopped on the first house we've seen and inside there was a kind of a shop with just a couple of products to sell and two old ladies and one man. They were just sitting there like they were waiting for us. Quickly the man helped me to keep the motorbike inside the house. It was yet another wooden/bamboo house. We changed our clothes and bought some plastic bags from them to try to protect our small backpacks a bit more.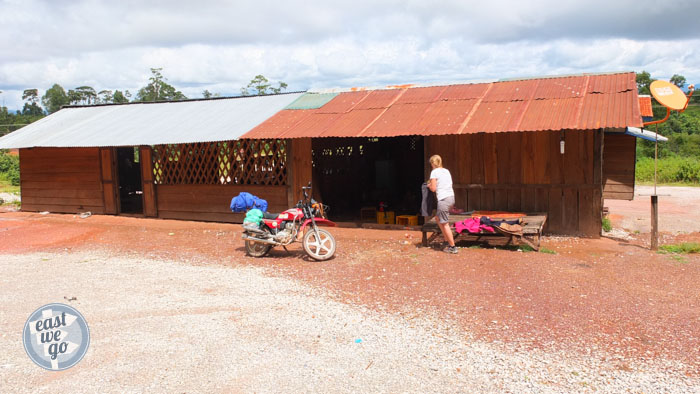 When we arrived in Thakek we realised how difficult it would be to find a suitable room. We went through 6 different hotels until finally decided to choose the very first we'd seen. At first it seemed too expensive (100.000 KIP). We saw room from the very expensive to the very very dirty so went back to the Mekong Hotel. It was just for one night so the damage in the budget wasn't so big. We hanged our shoes in the fan of the room and left for dinner.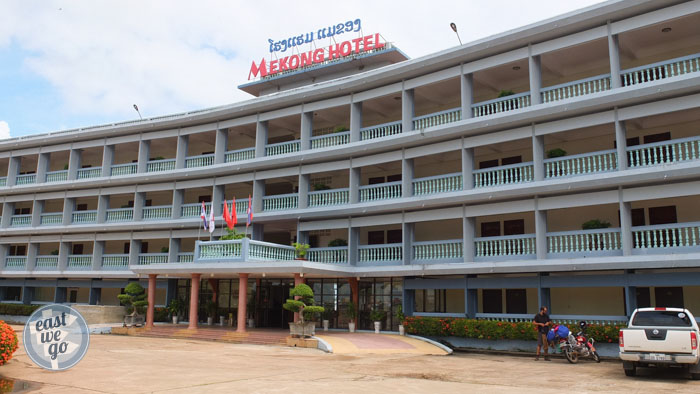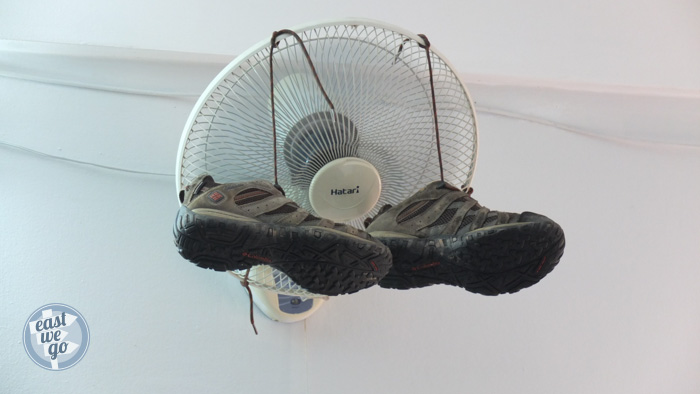 Thakek is located on the margin of the Mekong river. On the other side there's Thailand. This village has more life and is more developed than any other we've been in the last days riding our Zongshen. It has many houses with a french colonial style.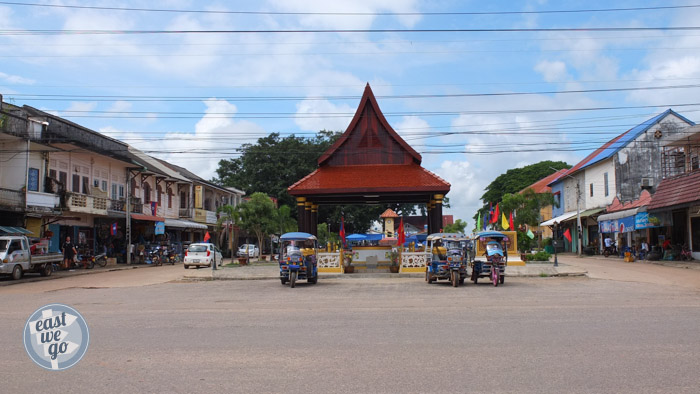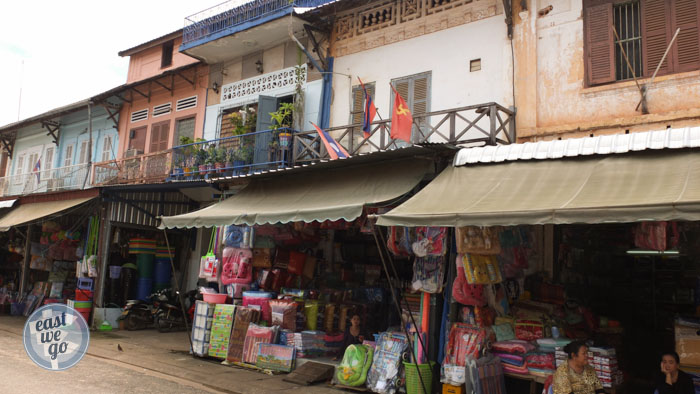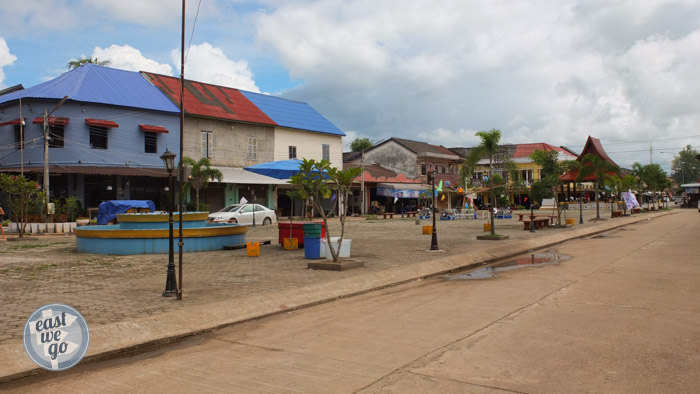 When we got to our room and opened the door we saw two big roaches running in despair. As soon as we started moving our stuff around we saw a couple more. Big and fat. The room was actually clean and neat but because we were on the ground floor and there was a big space between the door and the floor they could just move around as they like. We complained a lot to the receptionist but if we wanted to change rooms to an upper level we had to pay a lot extra and there was no guarantee that there would be no more bugs so we just made justice with our own hands (and  flip flops) and killed the one we could and expelled the others. In the end there were five dead bodies. We then stuck a towel in the door's space and I used duct tape to isolate some holes in the widows nets. I was carrying the duct tape since an identical situation in Thailand a couple of months before.
Everything went well.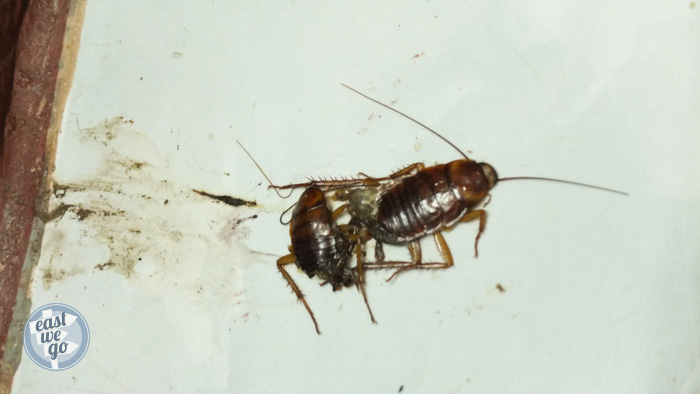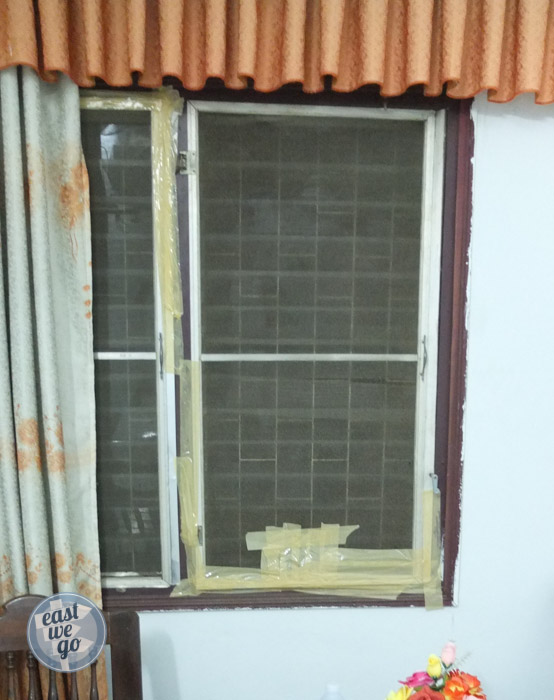 Day 5.  Thakek – Paksan – 191km
It was already a bit late when we woke up for one more day of adventures on the road. We had approximately 191 km ahead of us. At breakfast, in the hotel, it wasn't easy to explain them what we wanted. After a couple of minutes we were able to ask for some scrambled eggs through hand gestures.
The wound in my leg was getting a bit infected, so we looked in Thakek for a pharmacy to buy something to disinfect it. One of the clients that was standing there saw the wound and said she would take care of it if I wanted. Of course I accepted.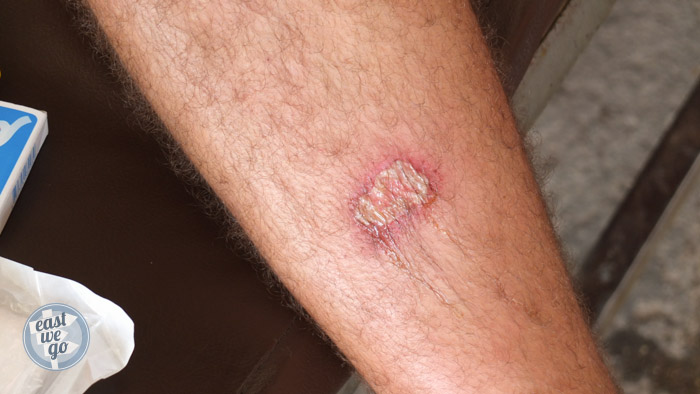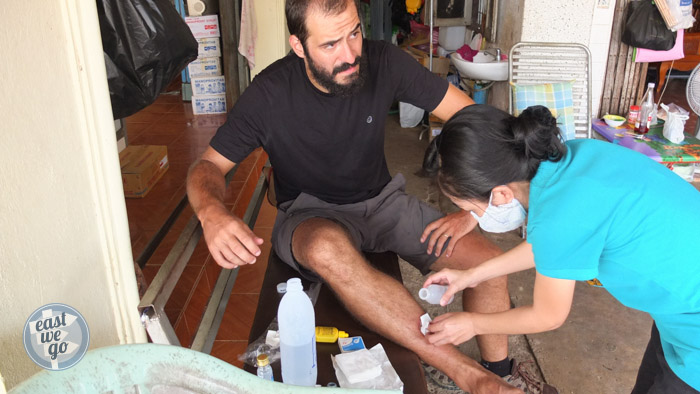 Right outside Thakek we could see the friendship bridge that separates Laos from Thailand and we went right to the border.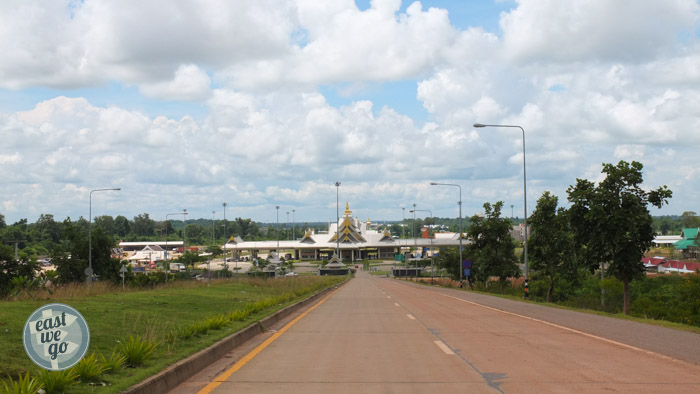 Again, the rain was threatening to fall. At some point we thought it was really starting and stopped at some house where the owners told us to stay without any problem even though they were leaving. Three minutes after we realised it wasn't going to rain that much so we climbed on the chinese and went again. It wasn't for another 20 minutes until it actually started to rain a lot and we found a wooden shelter and stopped while waiting. Everybody waved and smiled at us.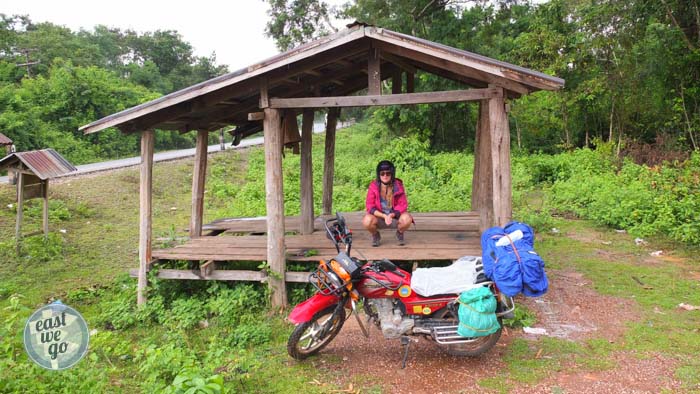 These roads were much easier to ride than previously. Even with all the water from the rain we were able to ride safely and quite fast. The landscape was still very green but now, the mountain were far away and by the road there were only endless rice paddies and fields to feed the kettle.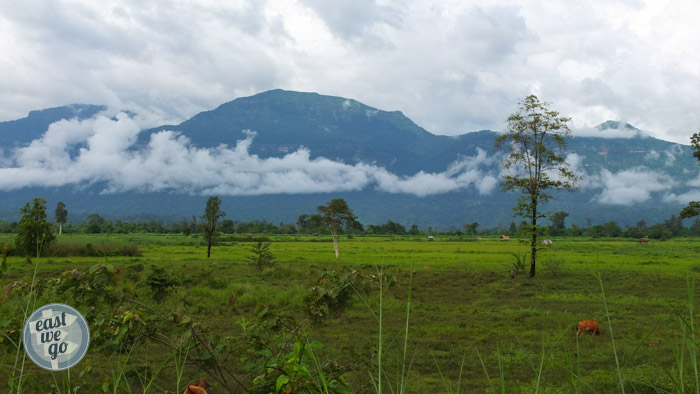 When we were getting hungry, we stopped at a wooden hut by the side of the road. It was like a mini market but had some instant noodles so we decided to try it for the very first time. Again, nobody spoke english but everybody smiled and tried to help as much as possible. They gave us tea and some mango to go with the noodles. Since we couldn't speak,we showed them a map to tell them where we're from and they did the same. They were from China and tried to recommend us some places there. When we asked for the bill they only charged us the noodles and said, I think, the rest was on the house. They said that to Vientiane we still had three hours more to ride so it would be better to stay in Paksan. That's what we did. It was already 16h and we didn't want to ride at night.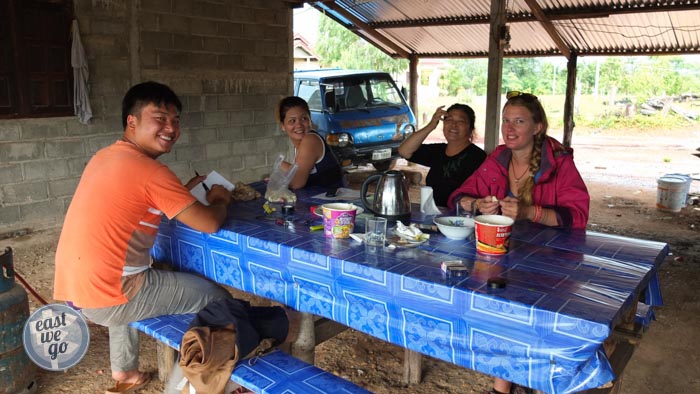 Paksan was another small village by the Mekong river with views over Thailand. After checking some guest houses we chose a very big and pleasant room at a very reasonable price. There we met three german guys, all in their fifties that were doing a similar path as ours each with their own motorbike and each with burn marks on different places of their bodies..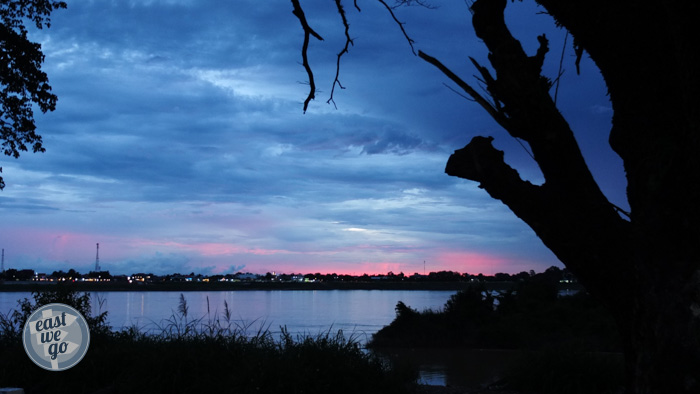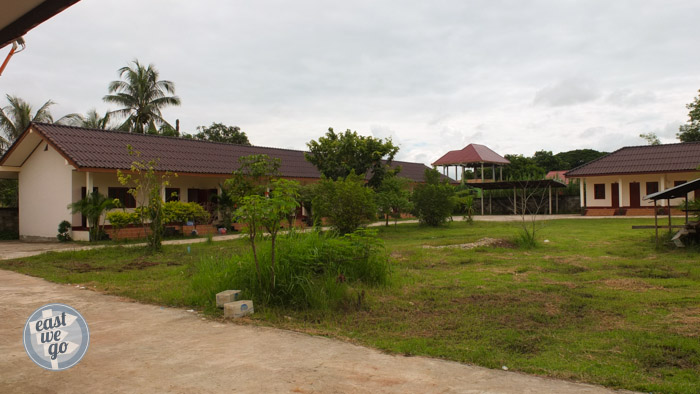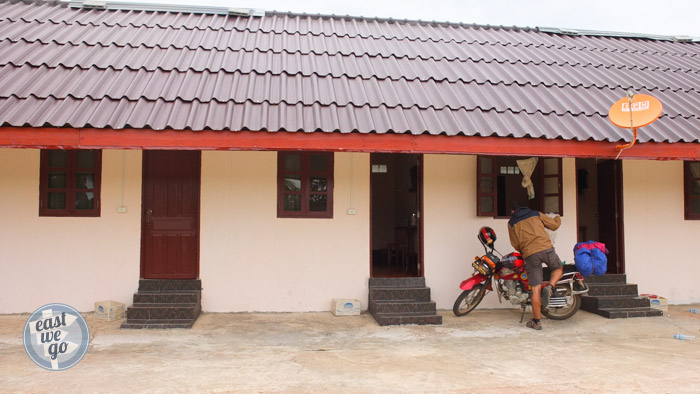 We found some place to eat and ordered something that should translate and cow breast. We knew it was a gamble as we didn't know how it would be cooked but what could we do? As soon as the food came we knew we weren't going to be able to eat that. The meat was very chewy, really impossible. That couldn't be what we ordered. Something must have been lost in translation. When we asked the waiter what was that he pointed in the menu to a completely different.. He apologised a lot and brought us the beef that was actually tasty.
After a short walk by the river we went to sleep. We were very tired.
Day 6. Paksan – Vientiane – 150km
We woke up with plenty of energy for the last part of our trip. There was 150km left and the weather was good so we had an easy ride.
We made a quick stop in the central market in Paksan to buy some stuff for breakfast. Magda stayed by the bike and I went in quickly to buy some cookies and juices, although we were really craving for some bread… The market was, like many others around Laos, very tight with its narrow corridors full with everything you can imagine. Everybody stared at me like I was an alien, but I guess it's normal since there are almost no tourist coming to this town.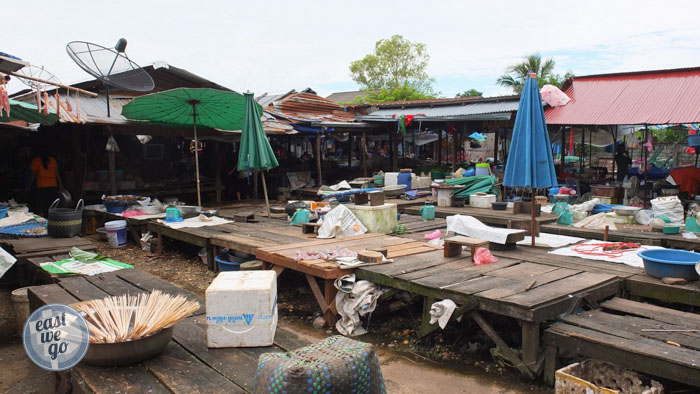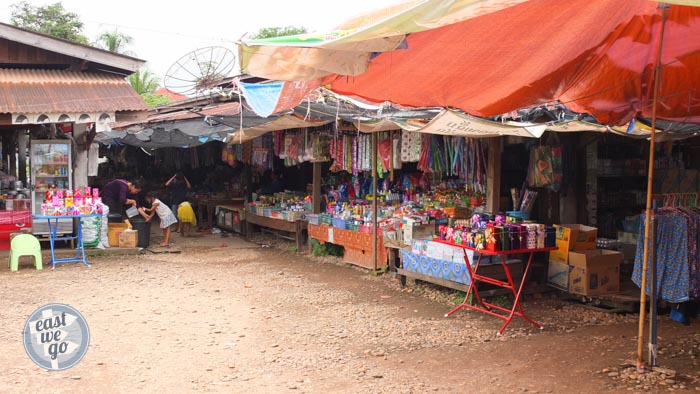 The trip, just like we imagined it was very quiet and peaceful and we got to Vientiane in short time.
After setting in the hotel we called Mr. Tim that had rented us the Motorbike six days earlier in Luang Prabang and told him they could come and pick up the bike, get the rest of the money for the extra days and give us back Magda's backpack as well as my passport they'd kept as a deposit. His sister met us few hours later and everything went as agreed and planned.
Renato