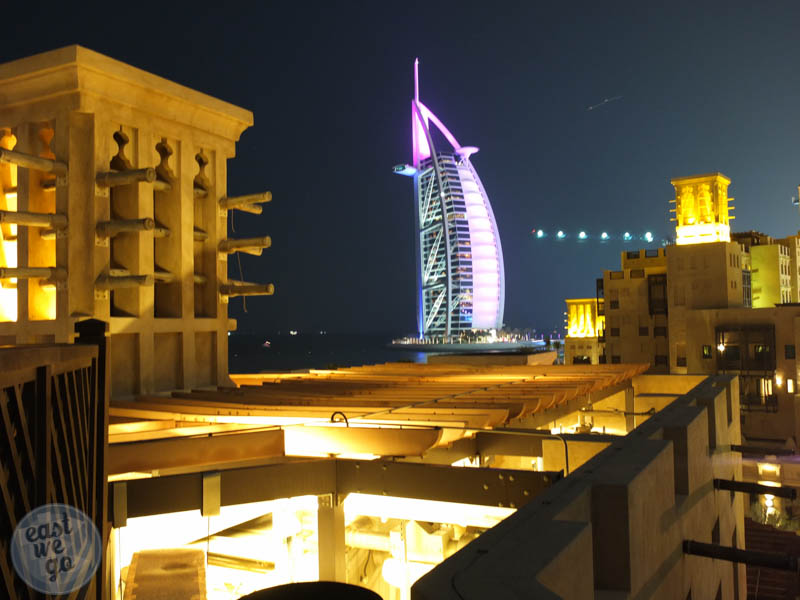 We  moved to Dubai in February 2014. I went early that month and Magda followed up 30 days later. Despite some uncertainty that this would be a good decision, it turned out to be the right option. I started working three weeks after arriving, so when Magda came, things were already kind of on the way. She got her job in four weeks and had several options to choose from.
During these first months, we were literally carrying our house on our backs. The first month I was by myself and I stayed with Victor and Irma, long-term friends that helped me with everything they could. When Magda arrived, we rented a house of a Victor's co-worker who had gone on holidays for three weeks. We stayed in the building next to Victor's house, in Jumeirah Lakes Towers. When the time came for us to leave, we moved to Easy Hotel in Jebel Ali, the cheapest we could find, but a bit far, so we stayed there only 4 nights. Then we found a studio apartment that we rented for 250 AED/day in Discovery Gardens, where we stayed for three weeks more, until we found our house for the whole year. After we had known where Magda was going to work, we ended up going back to Jumeirah Lakes Towers. There, we rented a studio for sixty thousand AED/year.
From that moment on, it was all about making some calculations and saving for our trip.
I worked in Tecom, so to get from home to the office I needed 15 minutes by taxi in the morning. In the afternoon, I would go back by metro. Between Internet City metro station and Dubai Marina metro Station (later known as Damac Properties) it's only 2 stops, so it's quite fast. The reason why I wasn't taking the metro in the morning was because I wore a tie everyday and if I had to walk between home and the metro and the metro and the office, which is 5 minutes each way, I would get there all sweaty during a long period of the year, especially in summer, when the heat is really unbearable.
The word heat gains a new meaning when you spend the whole summer here. You can't be outside for more than 3 minutes without getting all wet. The humidity reaches extreme levels and even at night, it is a bit unpleasant to walk outside for more than a couple of minutes.
However, construction work does not stop even during Ramadan (that usually falls in the summer) when those who follow the rules of fasting, don't drink a drop of water or eat anything throughout all day, and you can see people working on the construction site. One can only imagine the effort they must be putting in accomplishing that.
From October to March the weather is fabulous. It's the best time to go to the beach, as the sea water in not too hot, and the temperatures is perfect as well.
Dubai definitely has more expensive stuff than Portugal or Poland, such as housing, alcohol or coffee. Schooling for the kids it's another big cost for those who have them, but many companies include this expense as a benefit in the salary package. Besides these exceptions, I haven't seen anything extraordinarily more expensive. Diesel is ridiculously cheaper, tobacco is inexpensive as well. The food in supermarkets has similar prices to those at home. But considering the average salaries that western expats get here, you can, in most cases, have a better quality of life. Of course, there are many ways to spend your money. For those who like to shopping, Dubai offers the best stores and restaurants. However, there are plenty of budget-friendly places as well.
Another reason that makes life in the Emirates so pleasant is that it is a very safe country. It's common to see bicycles without locks, stopped motorbikes with helmets just lying on top of them, people leaving their phones or wallets on the table in the shopping malls to reserve their seats while they go get their food, endless lines of baby carts at the entrance of the beach, and so on. Even more, UAE is a very good, if not ideal, place for women.  If they want, they can use destined seats at public transportations; in the governmental services they have their own lines again, etc. One of the biggest myths about UAE is that women must be careful about the amount of skin they show in public. That is a very wrong assumption. Go at night to any bar and you'll see mini dresses like anywhere else in Europe. If you want to show some affection, the conversation is a bit different. You can hold hands anywhere, but if you decide to start kissing, you might me  be approached by the nearest security or by a Muslim family. You can't find alcohol for sale in normal supermarkets, but you can buy it in specialized liquor stores by showing a license (easy to get when you have a residence visa). In bars, you can find alcohol like anywhere else.
According to Wikipedia, the population in the UAE in 2013 was of 9.2 million people out of which only 17% were natives. This makes it kind of rare to actually find and socialize with an Emirati anywhere. Almost half of the population, 42% is south Asians from India, Pakistan, Nepal, Bangladesh and Sri Lanka. These occupy the most varied roles from the least well paid employee (1500 AED) to the most powerful CEO that is making hundreds of thousands a month. Every taxi driver is south Asian, mostly from Pakistan. There is also a huge amount of Filipinos living in Dubai.
It is very common to walk in front of restaurants or stores and to have the typical "Hi Mam, Hi Sir, Hi Mam Sir" coming from every direction. Other expats apart from Arabs or Asians, like us, represent only 6% of the population.
I predict that the population won't stop growing any time soon. In 2003 there were 3 million people. In 2013 there were 3 times more. Work seems to flourish, construction as well, and there's enough space for it to expand…
The truth is that we've enjoyed living there, either because the country was so receptive or because of the easiness with which we settled down and reached our financial target for the trip. It is possible that we'll go back…
Renato