After analyzing some different options, we decided make a road trip from Dubai to Muscat. We had two nights and three days to do it and we wanted to see as many places as possible.
After buying some food in the supermarket by our house, we met Victor and Irma and left around 10AM. The weather was wonderful and we wanted to enjoy the trip as much as we could.
We made the first stop in Hatta, an exclave from Dubai by the Omani border. There, we visited first the Hatta Heritage Village, a small and traditional Arabic village reconstructed to demonstrate how Emiratis used to live before. The history of this village goes back to 3000 years ago. It has 2 towers that were used for protection and about 30 houses divided into themes: traditional house, folklore house, craftsmanship house, pottery house, etc. The entry was free of charge and the visit was quite interesting.
From there we went to Hatta Dam, another famous location nearby. The landscape of this region is gorgeous and the contrast of the mountains with the lack of altitude in Dubai is really impressive. Our main goal in Hatta was to see the famous Hatta Pools – narrow canals of water, opening to small lagoons. Unfortunately, we didn't check the location well before we left home and there weren't any signs of information. We asked some police guys we found on our was about Hatta Pools, but they led us to a small weird border, with almost no signs, nothing. Two old military guys didn't help us at all as they didn't speak any English (or maybe didn't bother to talk English with us). They checked our passports and did not let us in. We had to go back and look for another entry point. Time was running and we were still far from Muscat, so we decided to give up this time. For future reference I recommend check the location more thoroughly, because when we got back home Magda checked some photos from that place and we regretted a bit not being prepare well enough to see in with our own eyes. Maybe this map will come in handy.
We drove around 30 minutes and got to the official border and went through without a problem.
We took the road that follows the gulf of Oman, 350 km from Muscat. We made a small stop to eat, by a very small mosque by the street and got back on our way.
It felt great to come back to Muscat. Little by little, we started recognizing the places where we had been almost one year before and we could actually connect the dots of different part of the city (here you can read about our first trip to Oman.
We stayed in Golden Oasis hotel, surrounded by mountains, in Al Wadi Al Kabir. We were a short distance by car from all the major attractions of the city. Since we arrived at night, we went for a drink at Habana Sports Club in Grand Hyatt Hotel, a bar that was highly recommended to us. The big difference between bars here and in Dubai is that you can actually meet a lot of locals with their traditional clothes, drinking and starting conversations with you just because you're not from there. It feels like a more relaxed environment than Dubai.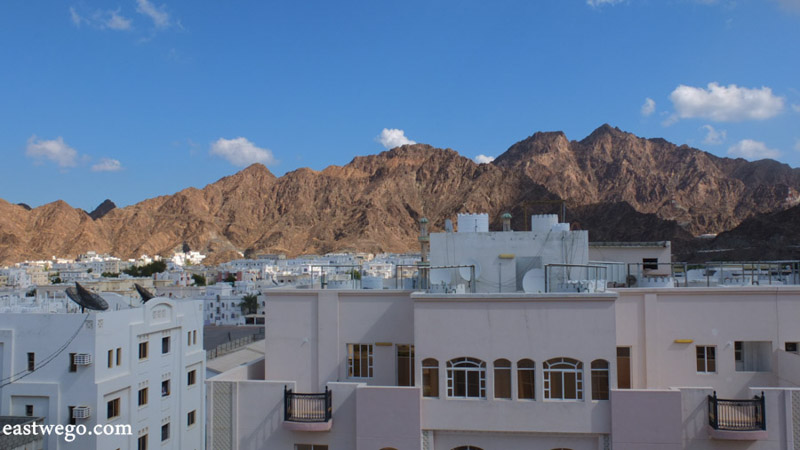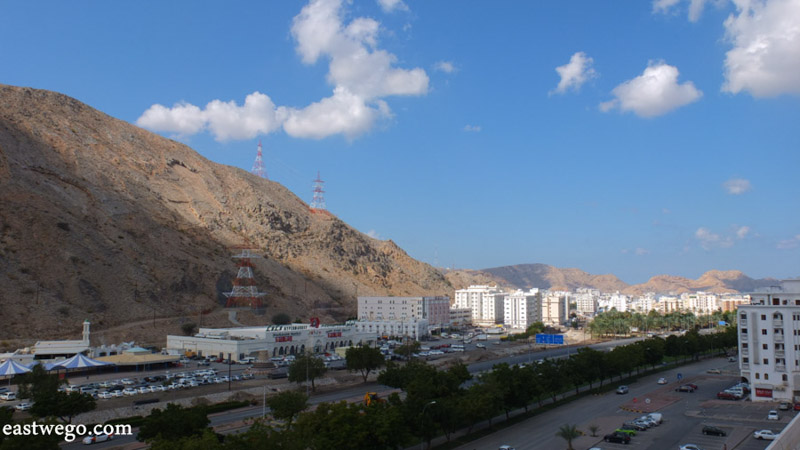 The next day we started exploring the Mutrah Cornish and then the most famous souq in the city(video here). We went to Sultan Qaboos palace in one of the quietest areas in the city and went to the diving center where I and Magda had been one year before. It was still too early and the bar wasn't open yet, so the place was empty. We decided to go back to the hotel and leave the car and prepare to go out. We went for a dinner in Ruwi street, the busiest part of the city and ended up going to Rock Bottom bar in the Ramee Rose Hotel for a couple of drinks.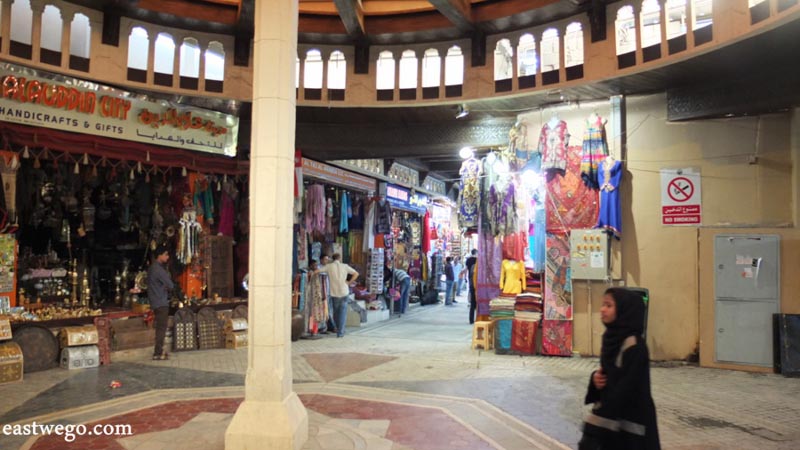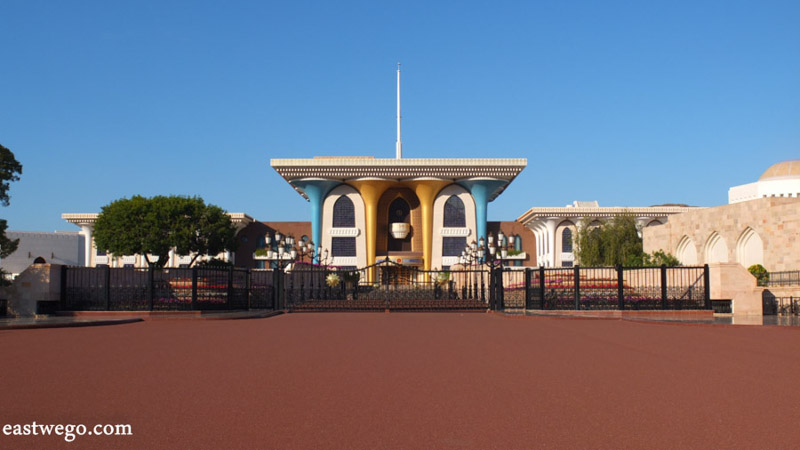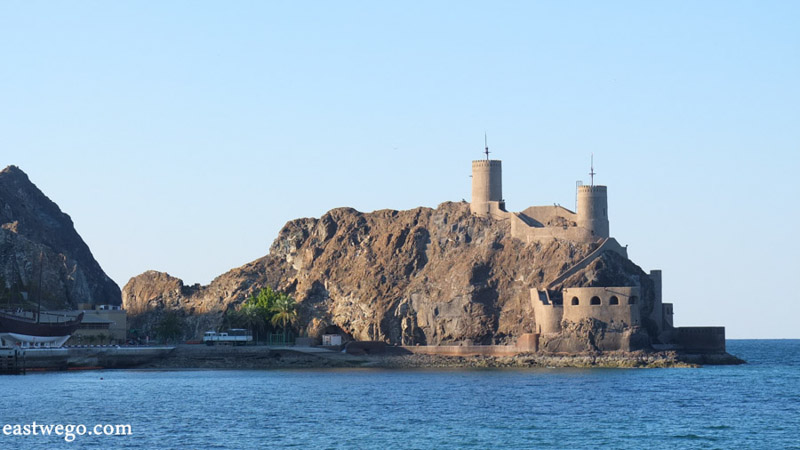 Next day, after breakfast, we outlined our route to go back home.
We decided to take a different route and to stop in a couple of interesting places. There were around 500 km to Dubai and we couldn't get home very late as Magda was working the next day. The landscape in the North Oman is very mountainous and arid. There is some vegetation every now and then and sometimes big groups of palm trees that instantaneously give a different aspect to the background of our trip.
That day we wanted to see nature and water… even though north Oman is basically a bit desertic. But we found in our guide couple of interesting places with streams and hot springs. First, we stopped in Ayn al Thawara to grab a sandwich from a dodgy snack-bar. It's a super relaxing place, with a little stream flowing down and lots of kids playing in hot the water coming from a hot spring nearby. It was weekend and that was the ideal place for families to have a picnic. We ate, relaxed, shot some pictures and left to our next destination. We tried to get to a Wadi (valley that after rain transforms into a lake) that everybody said was the real deal, but after almost one hour of driving there, we got to the conclusion that it was impossible without a 4×4. From there, we left to a famous hot water spring, just 1 km from Rustaq. It wasn't a spring somewhere in a countryside, but rather two big holes in the ground surrounded by a fence in a busy area in the village, right next to a street. It was quite crowded as well, but we found our place and sat to wet our feet. The water was almost boiling and we couldn't have our feet inside the stream for more than 10 seconds.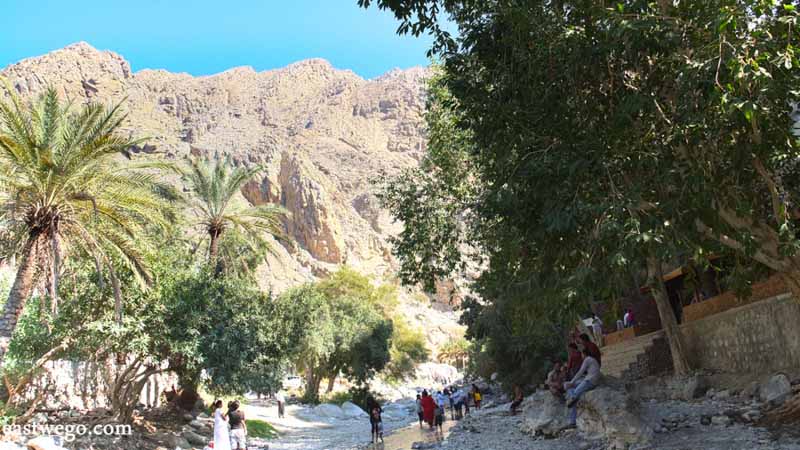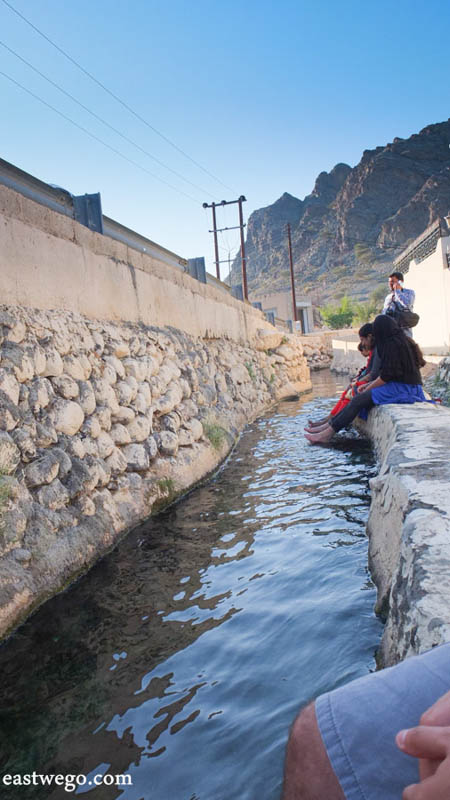 It was getting late and we still had a long way ahead of us. We stopped in Rustaq to check the Hazm Fort (open on Fridays only in the morning) from the beginning of the 18th century, and took last pictures before it got dark.
We entered the Emirates through Al Ain and arrived at JLT around midnight.
Again, we left Oman with the feeling of loving it.
More pictures from Oman here.

Renato