As you might know from our previous article about Chiang Mai, there were many things we didn't do there… We didn't really find a good, trustworthy travel agency to do some rafting or trekking and I couldn't decide which elephant santuary is reliable. Almost every street in the old town of Chiang Mai has some offices selling different tours and packages, providing different kind of experiences and, of course, in very different prices. I even asked the owner of our hostel if he knows any dependable agency, but he himself seemed to be lost in the enormous offer. Later on, I discovered a nice website offering tours organized by local people, not especially big agencies. They have a big offer of different tours and courses, with details of the schedules and reviews. Very nice initiative to join locals with tourist. Find other things to do in Chiang Mai with locals.
The greatest part of our stay in Chiang Mai was a motorcycle tour we did. After a quick research on the internet, I turned on my GPS and we went to discover the surroundings of Chiang Mai. The weather was perfect – warm, but not too hot and really sunny. We left the center and headed northwest to see Doi Suthep National Park. On our way, just before entering the park, there is a ZOO that we didn't have time to visit, but it might be a nice stop if you have the full day to spare. We passed the ZOO and turned right to road 1004. Here started a beautiful road through forest and jungle winding slowly up the hill. We passed plenty of buses full of tourists squeezed in a small, closed space, thinking how nice it is to be independent and feel the wind on our faces.
We stopped for a while at a gorgeous viewpoint overlooking the whole Chiang Mai.

Later on, we followed the street up and did our first long stop by the temple Wat Phra That. It is located on top of a hill and there is a kind of an elevator going up. The place was crowded, but still we decided to do it. The temple was quite nice, but there were so many people posing for selfies that we quickly left. The part down the hill we did by foot.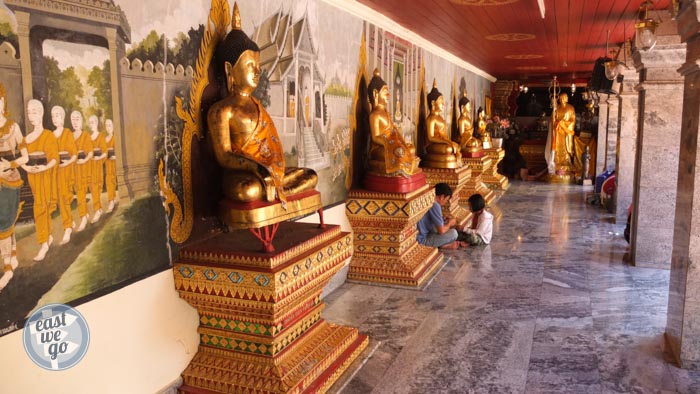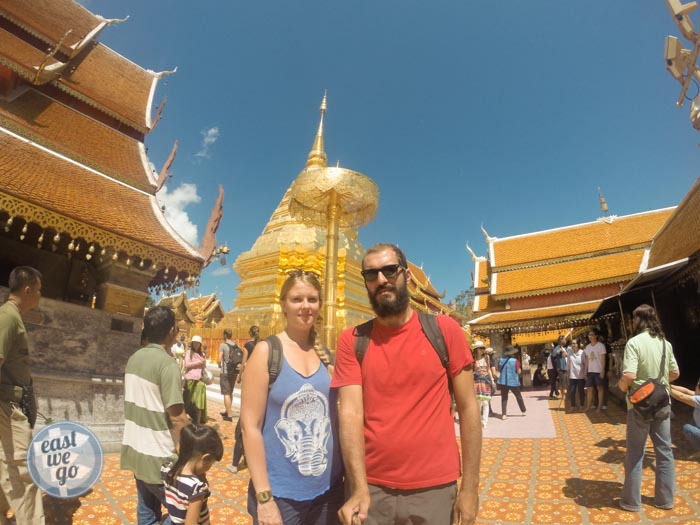 Next, we followed the main road up the hill again and at some point turned right. I wanted to find another good point over the city and go as high as possible, preferably up the summit of Doi Suthep. However, we couldn't find a path up, so we continued up the road, leaving the summit on the left. It was a very pleasant ride through a narrow road. We were almost alone and although we didn't find any good viewpoint, we had great time.
In the end of the road we turned back and went to the main street again, the one we left before we started to look for summit. We headed west and ended up in a strange Hmong village, full with stalls selling traditional Hmong clothes and jewelry, all in a doubtful quality.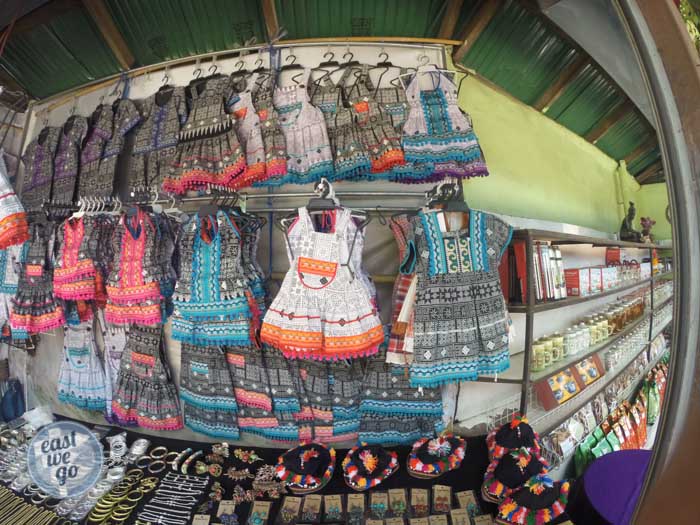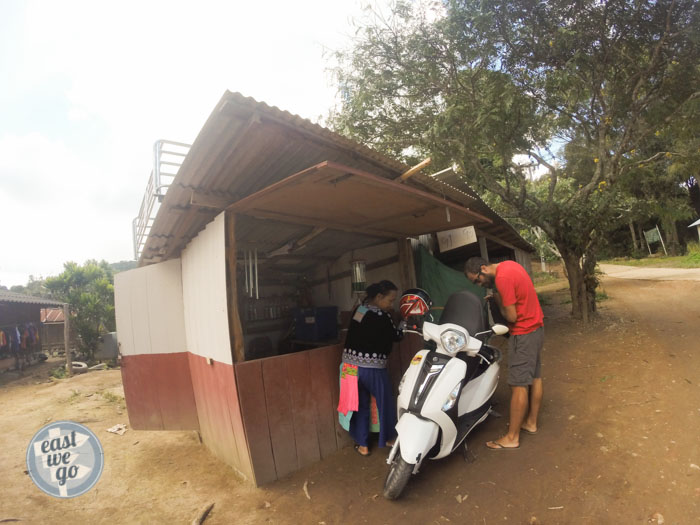 The ride down was amazing! It was slowly getting dark, the road was almost empty. The road was in a very good condition and we could go down practically without using the engine.
It was a very pleasant day and I definitely recommend this 70km tour to any of you who thinks of renting a motorbike in Chiang Mai.
Magda
More photos from Thailand here.