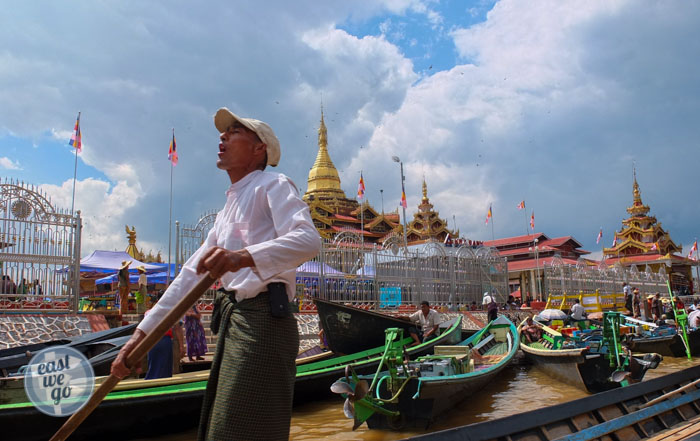 It was supposed to be a perfect day far away from tourists.  I read so much about Inle lake. That it is beautiful, wonderful, interesting, but… very touristy. I wanted so much to see it differently. Somewhere in the internet I found a contact to a local guy who rented boats, who is willing to take people to less popular spots, knows english and tells interesting stories. We looked for him for an hour or so, but at last we were only able find his friend. He was nice, but didn't show us anything special.
We left very early in the morning, at 6am. We got to the "harbour" when it was already daylight. I started to get nervous that we had missed the sunrise, a chance to take the best photos. Since the beginning, we understood  that it will be hard to talk with our guide and boat "driver", as he knew some basic vocabulary related to money and boat, but that was pretty much it. Additionally, that day there was the main day of Phaung Daw Oo Pagoda festival, which gathers crowds of people every year, luckily mainly local. My imaginary calm and non-touristy vision of the lake was gone.
As there was the festival going on, the first stop we did next to a crowd of people. Everybody was waiting for the parade of the boats. Four figures of Buddha are transported from the main pagoda to the surrounding villages on beautiful golden boats that looked like ducks. The four images reside at the main monastery in each village for the night, so the festival takes several days. Moreover, men from the towns around row on long, colorfully decorated boats in a traditional way. They wrap one foot on the verge of the oar and push the other end with one hand. Around 20 men rowing in unison, impressive view. Inle Lake, apparently, is the only place in the world where you can see this traditional rowing technique. It is really peculiar, not to say… strange.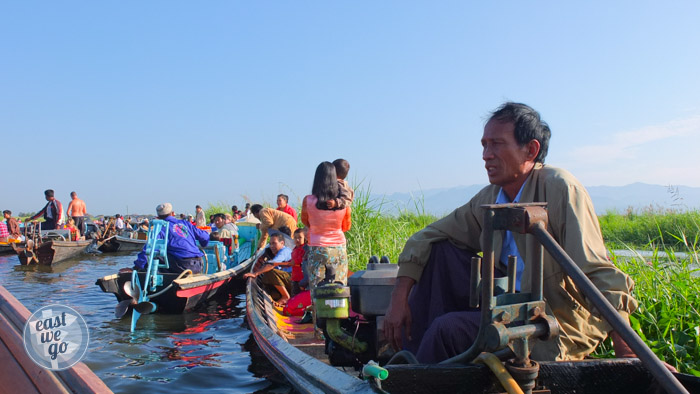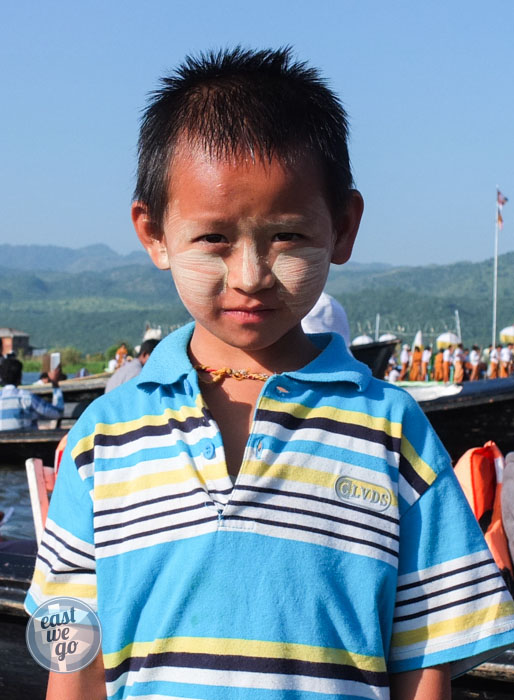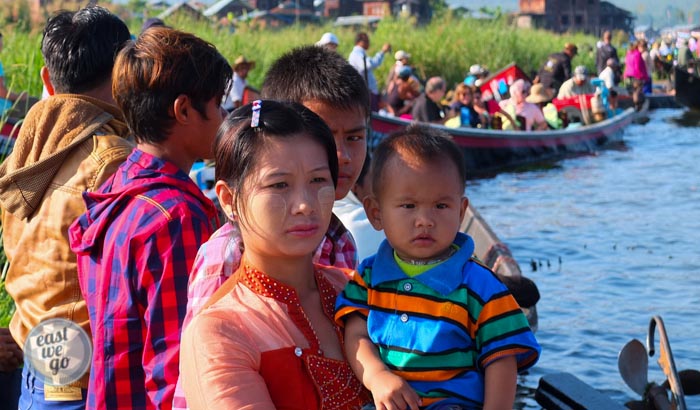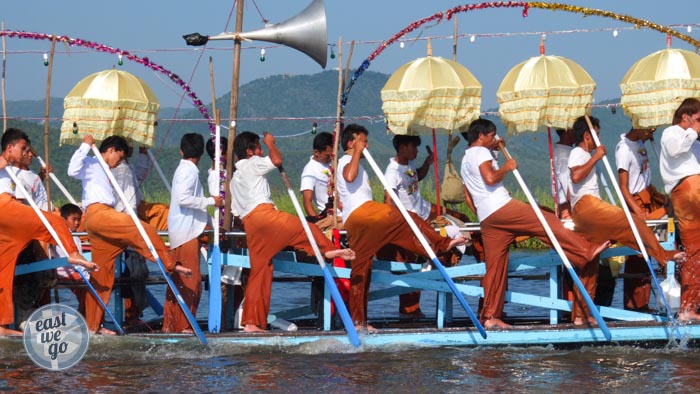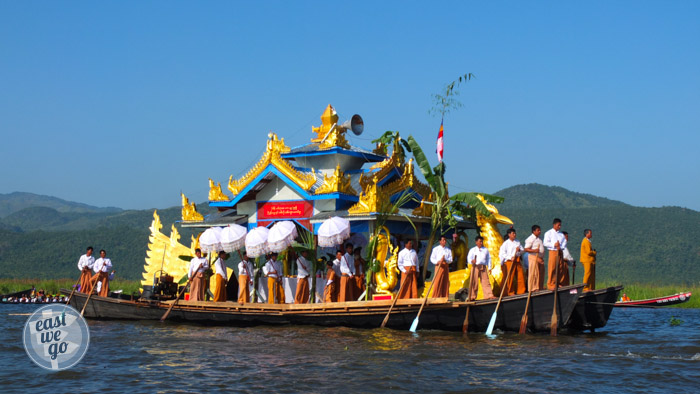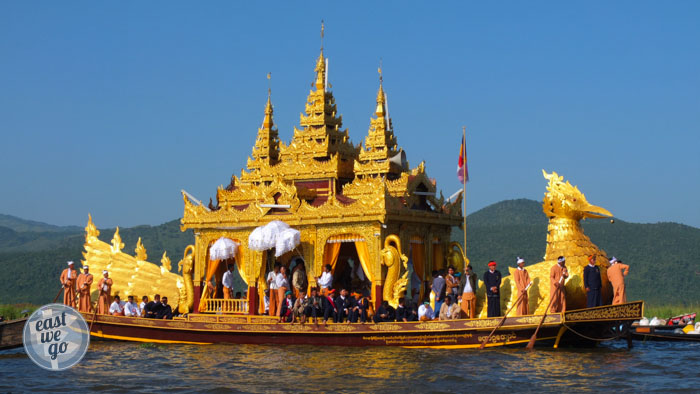 We stayed there for almost an hour and the boats kept passing by. In the end we decided to leave the crowd and go to the southern part of the lake. The views on the way were beautiful. Many houses built on long poles, some with colorful windows. Very primitive, probably without a canal network.The only way to get to most of them is by boat. A totally different way of living, just like in the floating village in Cambodia.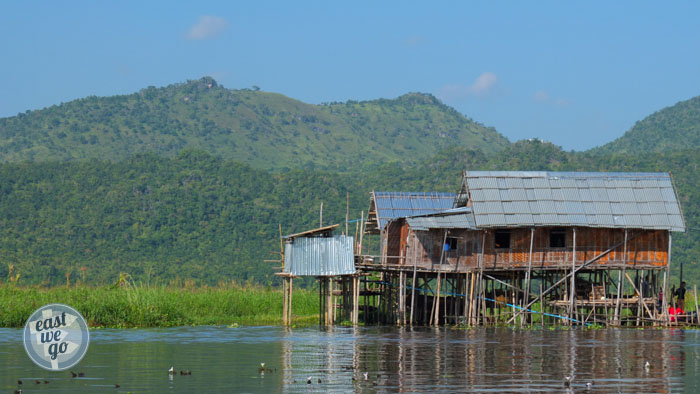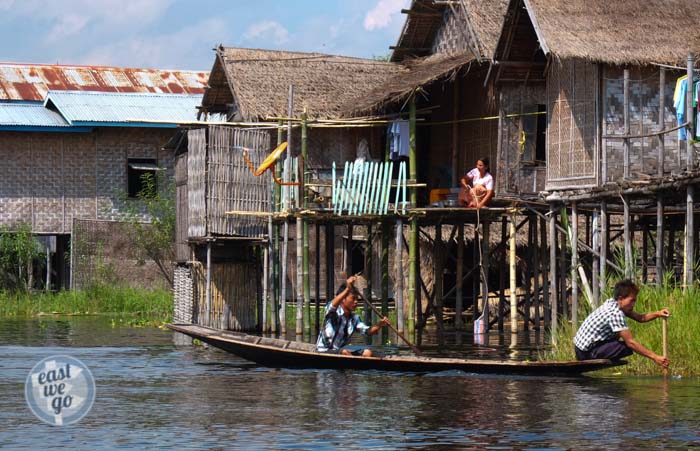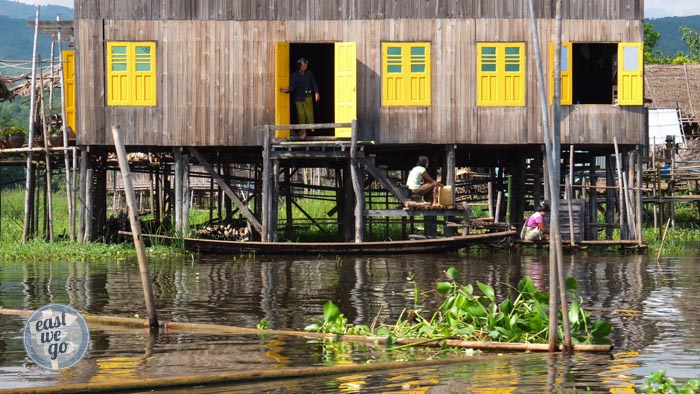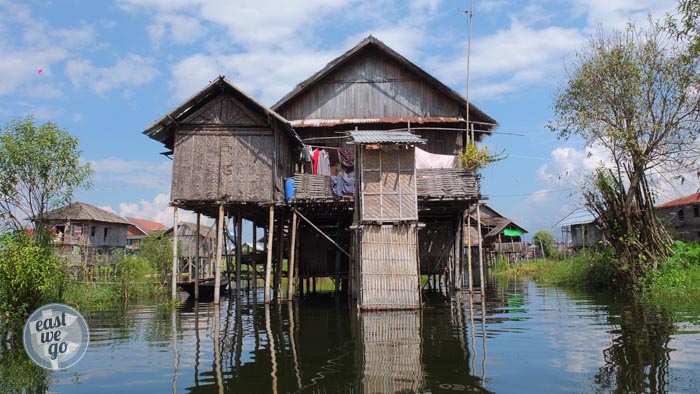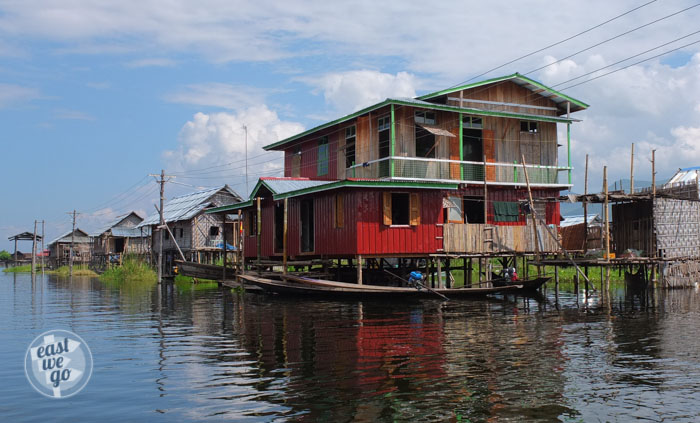 We stopped near to the Indein village to visit a temple that is towering above it. The pagoda is surrounded by stupas (mound-like structure containing relics of Buddhist monks or nuns) from 11th century. Most of them has never been renovated, so they were in a rather poor condition. Apart from a group of children playing with plastic guns, who were cute, but quickly started calling after us  "money, money", we were totally alone. It was calm and hot and we were surrounded by white and gold stupas and Buddha images. We walked around and went back to the boat where we found out guide sleeping in the sun.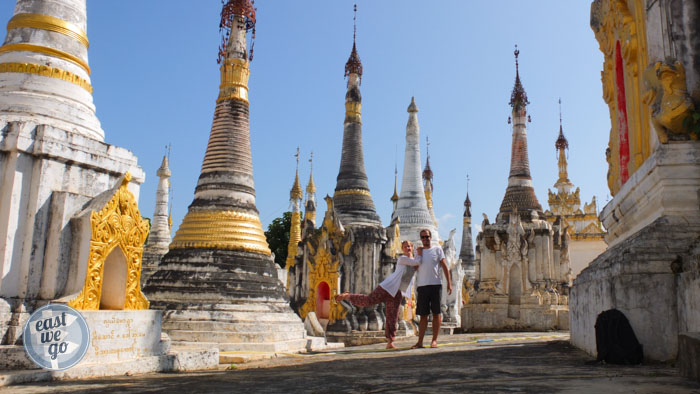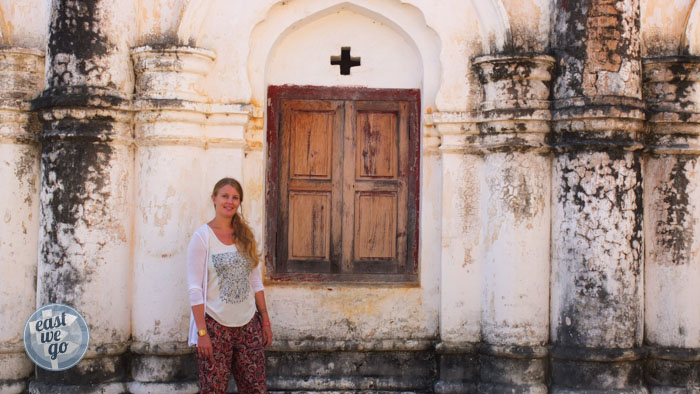 Next, our guide took us to the main temple  Phaung Daw Oo (known also as Hpaung Daw Oo or Phaung Daw Oo). Four figures of Buddha were taken from there and only one remained. In the center of the temple, behind a gold roofing, tightly surrounded by a group of people stood a sculpture which shape was almost impossible to recognize. Every year, the faithful cover it with many layer of gold, a ritual that we could see right there, right in front of our eyes. Inside the temple the atmosphere was rather solemn, however, outside it seemed like a fair. Dozens of stalls selling food, souvenirs, cheap clothes and accessories. We left that place rather quickly.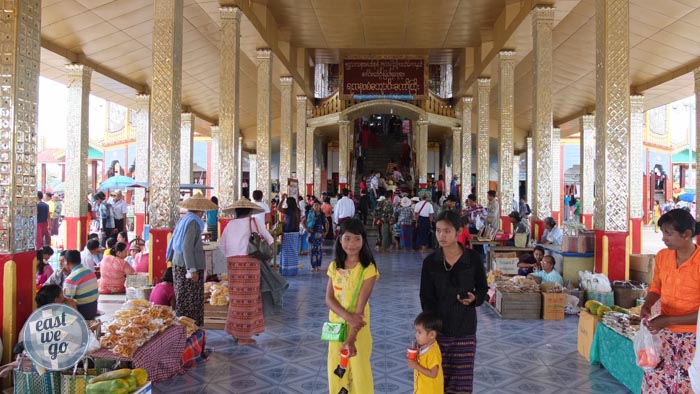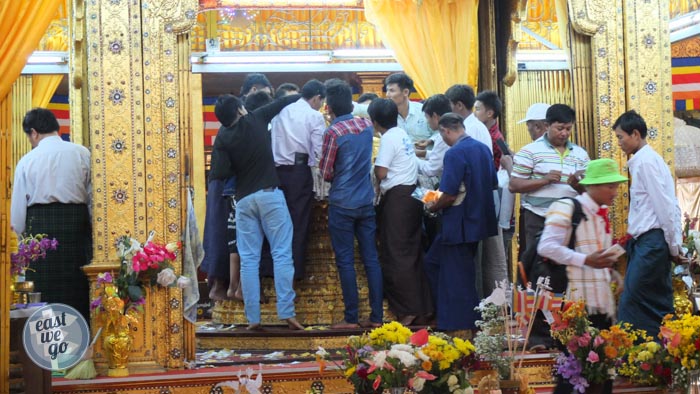 At this point I knew that our guide is not planning to take us to remote spots, so I gave up trying to communicate with him and let him take us to the famous Nga Phe Kyaun monastery, known better as the monastery of jumping cats. This place is popular because of cats that jump through small hoops. We did find cats, they were wandering around the monastery, but there were rather lazy and barely waked, so no way we would see them jumping.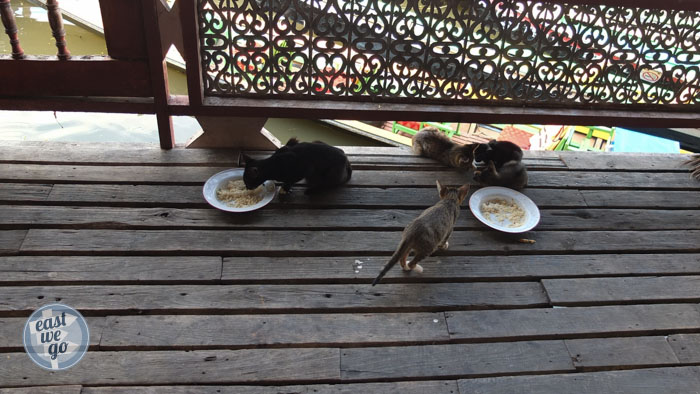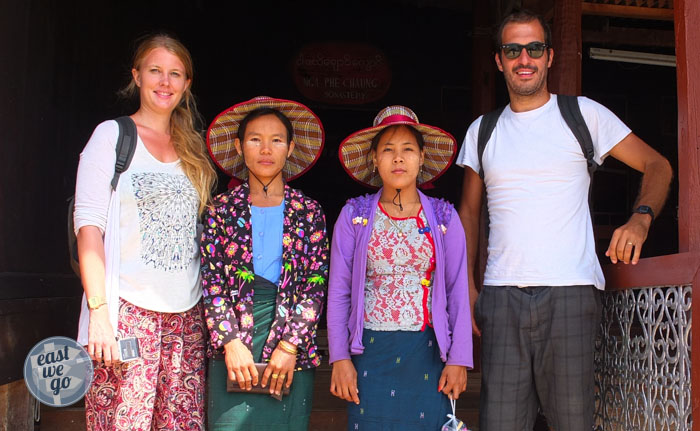 On the way back we stopped in a small shop with handmade products. That was where the famous Karen long necked women, one of the many ethnic minorities in the country, lived, same as we could see close to Chiang Mai. Of course, we were a bit scared that it will be like a circus, watching poor women with golden rings on their necks, exploited by tourism.When we were in Thailand we decided to avoid this weird attraction but in the end it was a normal, calm place and there were only three women sitting on the floor weaving some textiles. We went for a walk around the workshop and we found a small temple. On the back of it a couple of boys were playing ping pong. Renato asked them if he could play with them, but after a while, he lost almost to zero.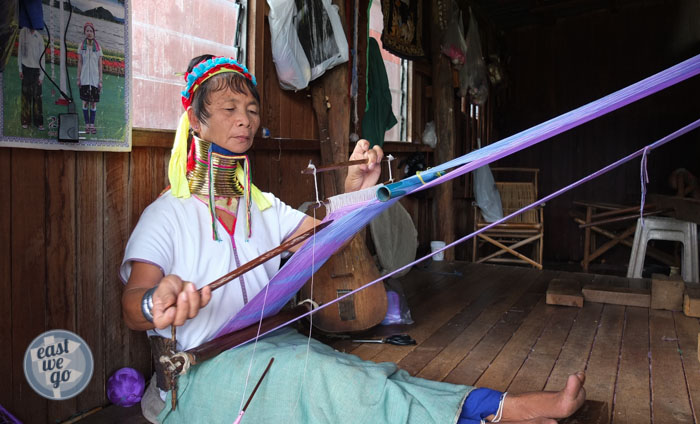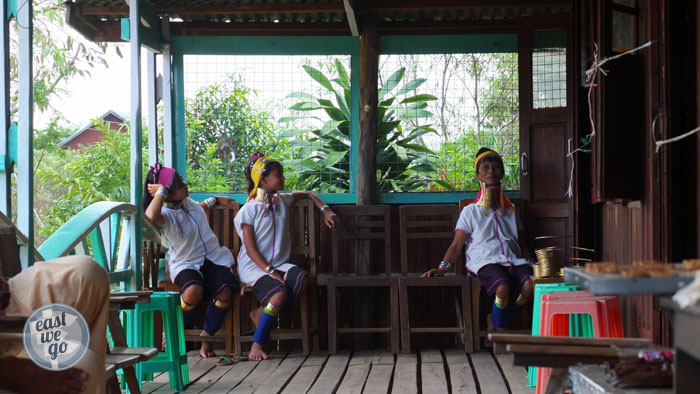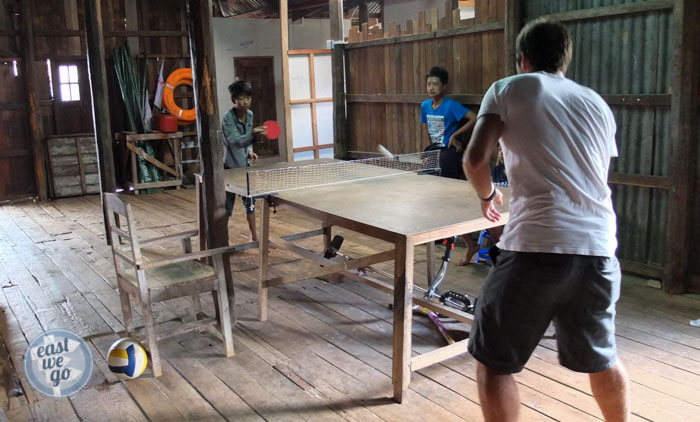 We finished the trip with a lunch in a small restaurant. Our guide didn't seem willing to show us anything else and to tell the truth, we were tired and sleepy. We agreed to meet the next day for a short trip to the lake to see sunset.
Have a look at the video we made from the Inle Lake.
Magda
More photos from Myanmar here.