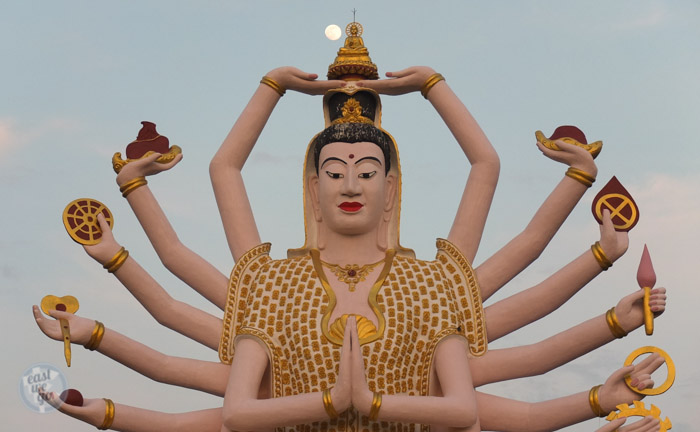 After a week of laziness on gorgeous turquoise beaches in Railay and Koh Phi Phi, Koh Samui was a great escape from colorful fish and white soft sand. You will not experience that here. The island, in general, is not pretty. It's far from azure tiny bays of Koh Phi Phi or tawny orange cliffs hanging above the bluish water on Railay peninsula. The sand is gray and coarse-grained, the sea of dark green shade, you can't spot any fish. But still, instead of spending there 2 days as planned, we were there for five.
We left the ferry in Nathong town and were the only tourists not piling straight away in the taxis. We didn't have a hotel booked, so we wouldn't have even known what to tell the driver if asked about our destination. After a quick glance at the guide and a website with hotels, we caught a songthaew: a local type of tuk-tuk (taxi/bus, open pick-up going around the island with no schedule) and we went to the northern coast, to Mae Nam beach. We ended up in a small wooden bungalow right on the beach. In the morning, when we went for a wake-up swim, we were disappointed. The sand was coarse, the water not really transparent, the beach narrow. If it was the only beach I had ever seen in Thailand, probably I would have been satisfied. Knowing other corners of Thailand you start being choosy. Later, I understood that Koh Samui is not a heavenly beach paradise, yet it doesn't make it any less attractive.
After two very quiet and chill-out days on Mae Nam beach we started missing civilization, temples and crowded restaurants. So we set up to see the most visited part of the island: Chaweng. We rented a motorbike and started discovering. In the beginning, I hung on tightly to Renato and my GPS, soon though my phone with navigation landed in my backpack and we began exploring it on our nose. Koh Samui has 280 km2, but a significant inner part of it is not inhabited. Along the shore, around the whole island there is the main 4169 road, having in total around 60km, so one day is enough to drive it all around. Koh Samui has plenty of signposts, thus it's easy to get to the main attractions without a GPS. There are plenty of places to see, some temples, viewpoints, waterfalls, etc. It won't sweep you off your feet, but it's worth it. Among the main attractions we saw:
Big Buddha Temple – Wat Phra Yai – 12 meter statue of Buddha built in 1972, located on an island joined with the mainland by a causeway. Short, free visit with nice views from the top over the surrounding beaches.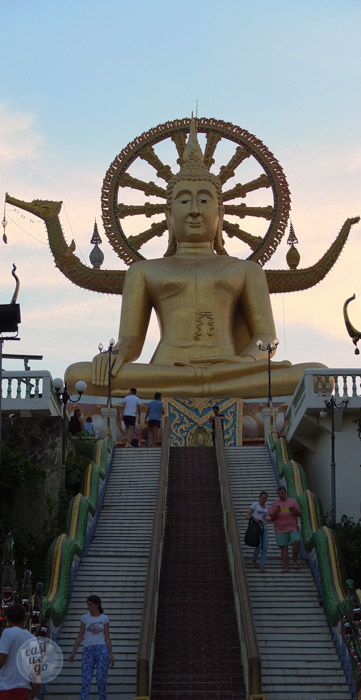 Wat Plai Laem Temple with a couple of statues and building surrounded by a lake: a statue of a Chinese goddess of mercy Guanyin with 18 arms (to be able to protect all in need), a statue of Chinese fat Buddha (symbol of prosperity) and picturesque colorfully decorated buildings on both sides of the road. Although the temple is not as skilfully decorated as temples for example in Bangkok, still it's an interesting colorful highlight of the island.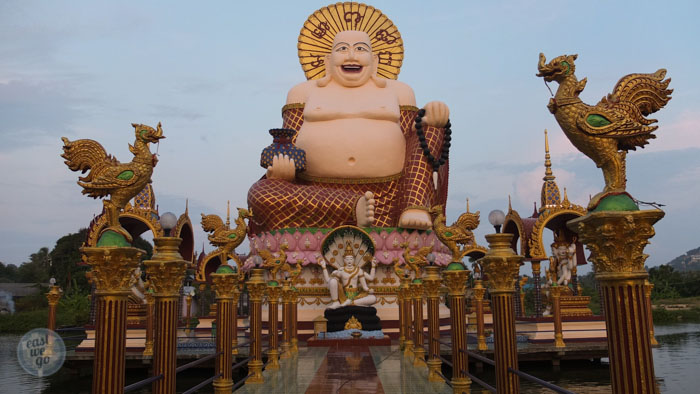 Namueang 2 Waterfall situated by an elephant trekking center. Not very high, requiring a bit of hiking with a small lagoon with turbid water. You can find there a zip line, waterslide, coffee shop and other expensive and not-very-attractive attractions.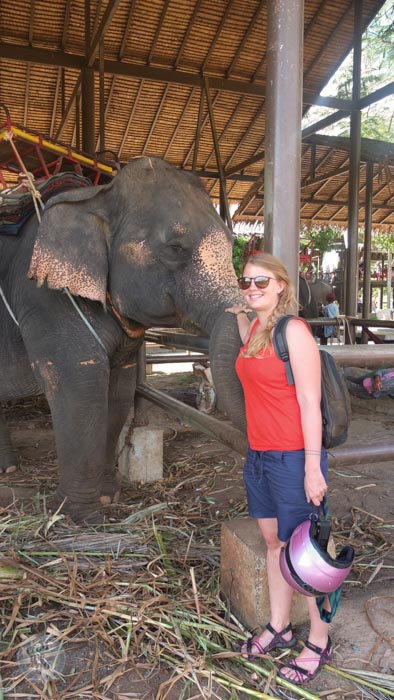 Mummified monk – the body of a monk who died almost 40 days ago sitting cross-legged with black Ray Ban sunglasses on his eyes. Peculiar place to visit in five minutes.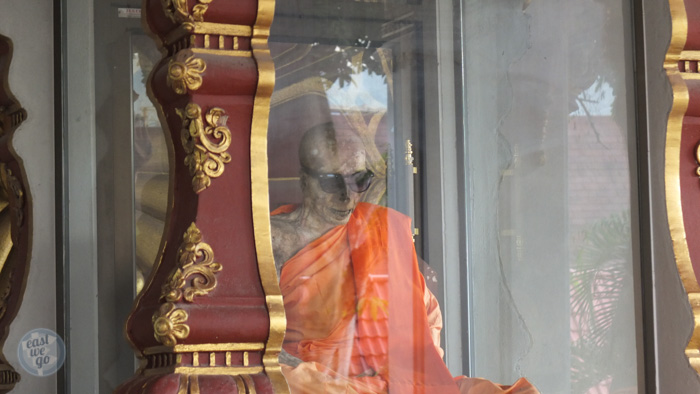 Grandmother and Grandfather – two stones: Hin Ta and Hin Ya looking like,  the male and female genitalia, respectively. Perfect example of how to make a bawdy tourist attraction from pretty much nothing.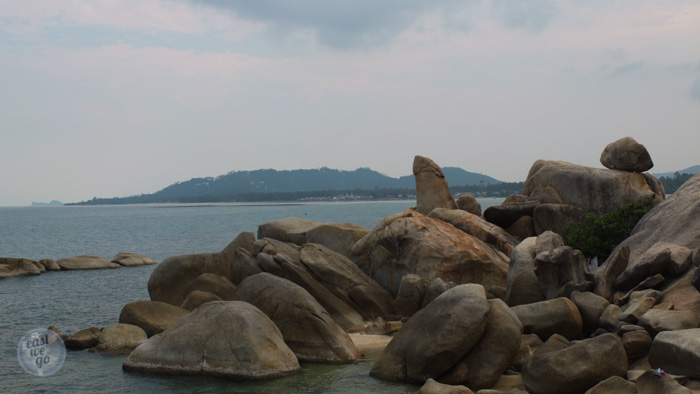 Fishermen village – village, or rather a street with charming houses inherited from Chinese immigrants. Alluring middle and high budget restaurants with fresh seafood with tables right at the beach.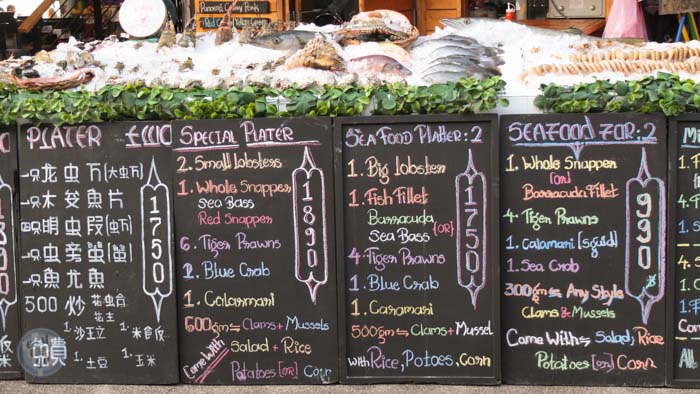 Na Mueang viewpoint – a small coffee shop in the middle of nothing with a perfect view over the island. Awesome place to rest from the buzz in your ears after a long motorbike ride.

The eighth place is not an attraction, but a road. Our absolute Koh Samui hit! We found it by coincidence and I still don't known where exactly it is. Going east through 4169 road from Big Buddha, at some point there is a signpost indicating the shortcut to Lamai beach. Narrow, curvy path crossing the island
in half going through palmtree forests, where all you can see is green leaves and all you can hear is the hum of the wind.
Besides these attractions, I think you should also visit the Secret Buddha Garden nearby the Na Mueang viewpoint, see the Namueang waterfall 1 and go on a tour to Ang Thong national marine park. We, after a one day trip on Koh Phi Phi island, were tired of organized mass attractions, but apparently the views are amazing. In the Chaweng area have a walk at night along the main street. It is full of shops, bars and places with Thai massage. It's quite touristy, but has a nice party vibe.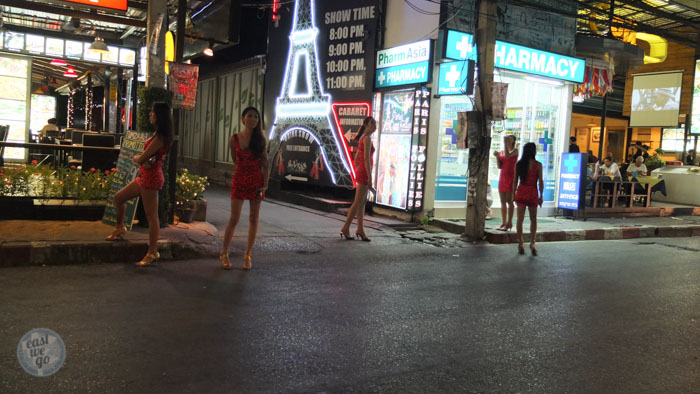 Regarding beaches, we didn't explore them all, so I don't want to give false opinions. However, Coral beach between Chaweng and Lamai beach is our definite number one. Nam Mae is a good option if you are looking for a quiet beach with inexpensive accommodation.
Koh Samui is a perfect place to actively spend time visiting interesting places and relaxing on the beach. In general, it won't sweep you of your feet, but a two-day motorbike tour is probably the best way not to get bored on not so great beaches. Personally, Koh Samui impressed me, as it is not only a beach resort for tourists, but also an authentic and alluring piece of Thailand.
Magda