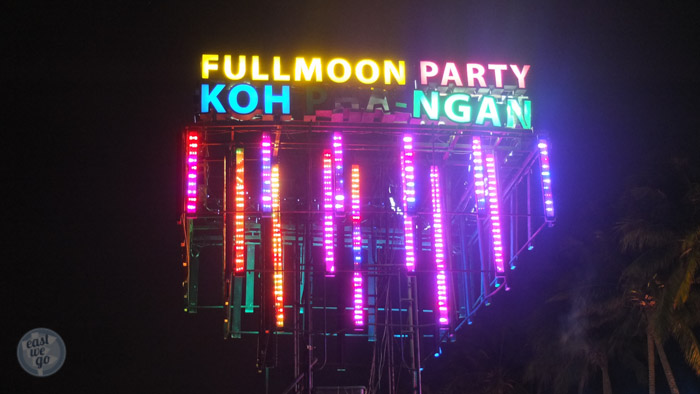 We are entering the island, going on the pick-up to our hotel on the main road going through the south coast of Koh Phangan. On the right we can see dozens of shops with fluorescent T-shirts, on the left posters with party locations, in front signs leading to thousands of rooms and houses for rent and next to us a dozen of young people who came here to spend one night at a beach partying. They come a few days before in order to find a nice accommodation, meet new people and have time to go shopping for fluorescent dresses and tops, with Full Moon Party prints, obviously. Every month, when the moon is full, thousands of young people gather on Haad Rin beach to party until dawn or longer to super loud electronic music. It all started in 1985 when a small group of people organized here the first party during some random full moon night. Since then, the legends about this party have spread by word of mouth, bringing to Koh Phangan every year more and more people who want to take part in this unique beach party under the moonlight.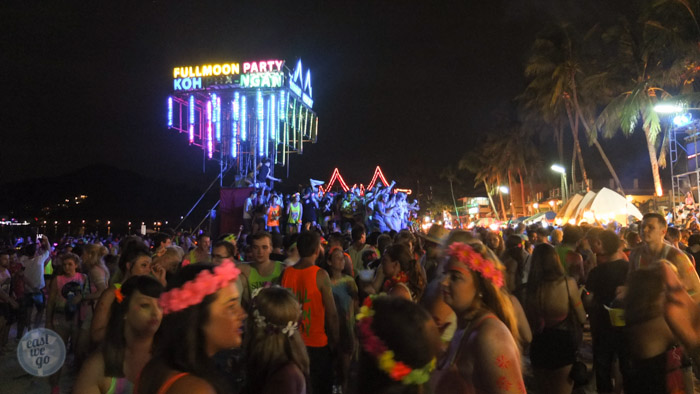 As during probably any music festival, the outfit plays an important role. During Full Moon Party dress code includes fluorescent colors and colorful shiny body paintings. I observed different trends. Couples usually wear similar T-shirts, but the girl would wear a short one to show her belly and the guy a sleeveless top. Single girls definitely opt for very short denim shorts and cut out bright top and a swimsuit, just in case, after all the party is at the beach. Single guys come as though nothing ever happened, flip flops and swimming shorts, with chest and arms painted with various designs. Body painting is a very important part of the night. There are stands with "paint rental" on every corner of the narrow streets leading to the beach. Drawings, geometrical designs and abstract spots all in bright colors that will be visible in ultraviolet light are a must. The best one was an orange and green 7eleven (local supermarket) logo painted on the chest of some guy. Another necessary party attribute is a bucket. You know, a small plastic bucket, like the one you used play with in the sandpit when you were young. The bucket is filled with alcohol mixed with coke, preferably, to stay awake until dawn. You put some straws and share the drink with your friends. The more empty buckets there are, the more new friends you make and maybe even sex on the beach will end up not being only a name of a drink… Party is crazy and nobody even notices that the moon might be full, but is totally covered with clouds.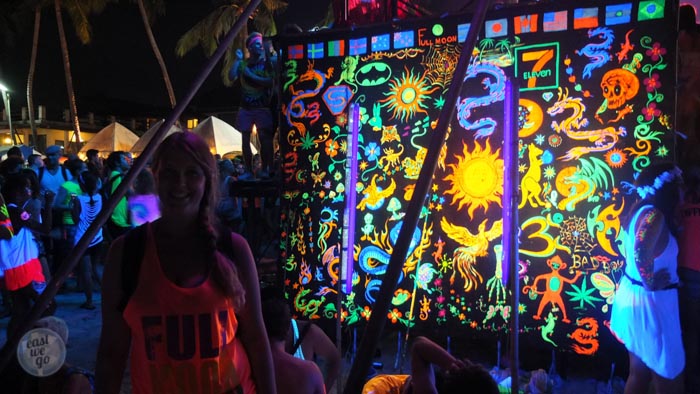 Music is not relevant here, it's more about the atmosphere. Along the whole beach, next to the bars there are huge speakers playing extremely loud electro music. The people dance around in the sand and on special stages. For less resistant people there are special "sleep zones" prepared; however, they are right on the sand, in the middle of the party. I can't imagine sleeping there, but on the other hand after a certain amount of booze, you can sleep wherever…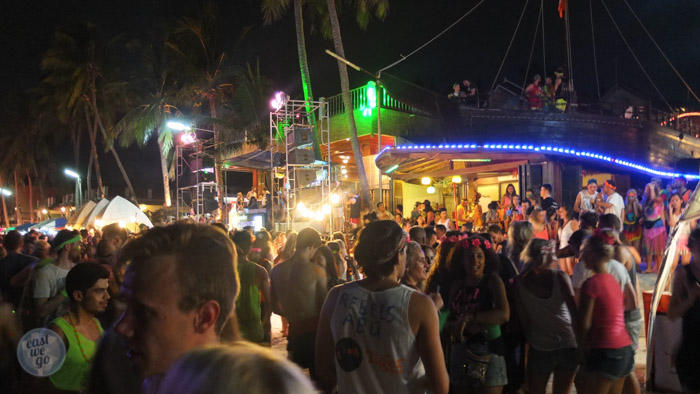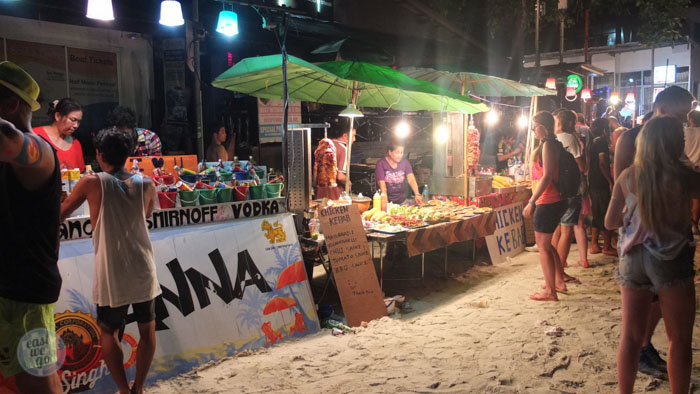 Although it's not exactly a kind of a party I prefer, it was worth to see this party. My pink fluorescent top with a big print will be a great souvenir from this crazy and a bit odd night. When you visit this part of Thailand it's a must to go to Koh Phangan for this feast. If you don't happen to be around during full moon, don't worry there are plenty of other parties, like Half Moon Party, Black Moon Party and many others…
Magda
See more photos from Thailand here.