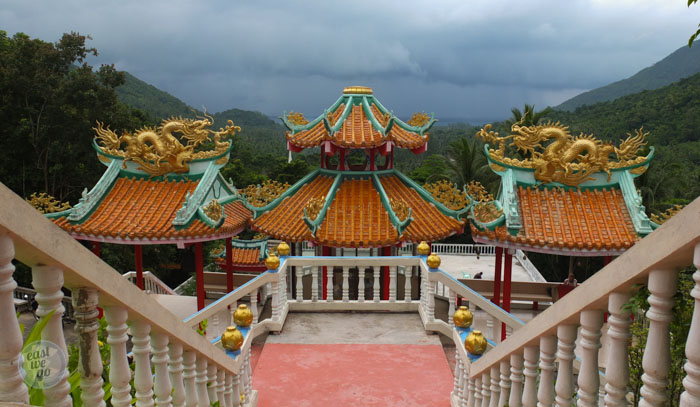 If it wasn't for Full Moon Party's odd fame, Koh Phangan would be a quiet, averagely interesting island with few beautiful beaches and almost any attractions. The popularity of the beach craziness organized every month transformed the island into a party mecca, with thousands of people coming here to sunbathe and celebrate with alcohol. I wonder if the people living here, especially those from the south-east part of the island, are happy with the confusion every month. On one hand, it is a great opportunity to gain some money. Young people spend here thousands of Bahts on taxis, accommodation and booze, of course. But on the other hand, no more peacefulness and idyllic life with "normal" infrequent tourists.
Motorbike again
For us Full Moon Party was more a phenomenon that we wanted to see, rather than experience. That's why we rented a motorbike again, opened the maps and started exploring all corner of Koh Phangan. Once again, after Koh Samui, it was a perfect, convenient, cheap and fast way of visiting the island. Although we had heard about many accidents happening on the bikes, especially here, where the road to the famous party beach is full of hills and steep slopes and there are plenty of young crazy drivers. Renato, though, has been driving a motorcycle practically since childhood, so I felt pretty safe sitting in the back. The rental also resolved our problem with choosing accommodation. Initially, we were considering a small bungalow on a remote north coast, far from all the party fuss. Eventually, we found a nice hotel with a swimming pool in the south, between Baan Tai and Baan Khai beaches. Motorbike gave as the chance to pack out towels and choose any beach. And even though we had one close to us, not salty pool water with no sand won this time. We hadn't entered the sea until the last day, on the north-east coast. It was also the last day that changed our opinion of the island. But I will come back to it in a moment.
Visiting, but what is there to see?
We have had our bike rented, our helmets on our heads and we started our tour. We began with temples. There aren't many, and they are rather deserted. Wat Phu Khao Noi is the oldest temple on the island and is located on a hill. Still, it doesn't offer any good views. If you want to see the thicket of coconut palm trees from up, you should visit  Wat Khao Tham. Besides a small temple with a reclining Buddha, there is a pleasant view point. The whole temple complex is located in a dense forest and there are some random sculptures and wooden huts around.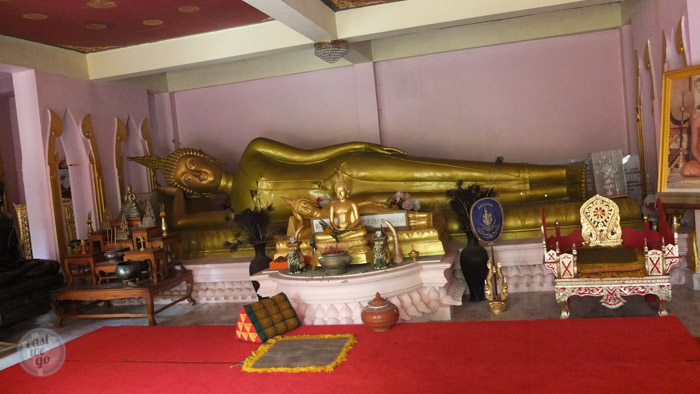 Wat Pho was totally closed and no trace of the herbal sauna described in my guide. The only visitor was a rooster. An interesting change offered the Chinese Temple in the north of Koh Phangan, also totally empty, but colorful and with a good viewpoint. The best part of visiting the temples was finding them and observing the landscape on the way.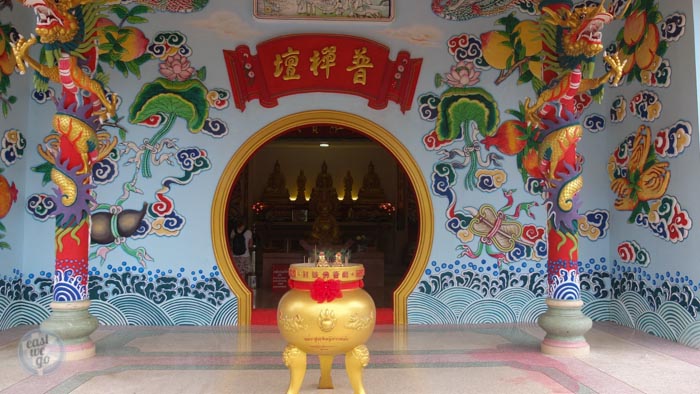 Moreover, we went to see the Phaeng Waterfall. Interesting thing, as August is supposed to be the wet season and the waterfall was not even a small stream… We climbed to another viewpoint there. It was hot and stuffy, and the hiking up the path with many roots quite steep. I still don't know if it was worth the effort. The views were quite beautiful, though.
Chill out and delicious food
Our favourite place on the island was a small restaurant on wooden sticks right at the beach next to Golden Rock. The lowest prices, tasty fresh juices and yummy Thai food, and most importantly a totally relaxed atmosphere. Right next to it there are very cheap bungalows for rent, low standard most probably. If only we had known this places earlier, we would have probably spent there all the time…
As you might suspect, we totally fell in love with Thai cuisine.  The Pantip food market in the center of Thong Sala was a paradise for us. Small stands with all possible authentic, delicious and cheap Thai dishes. I was enjoying colorful sushi, but the choice was practically endless. An absolute must!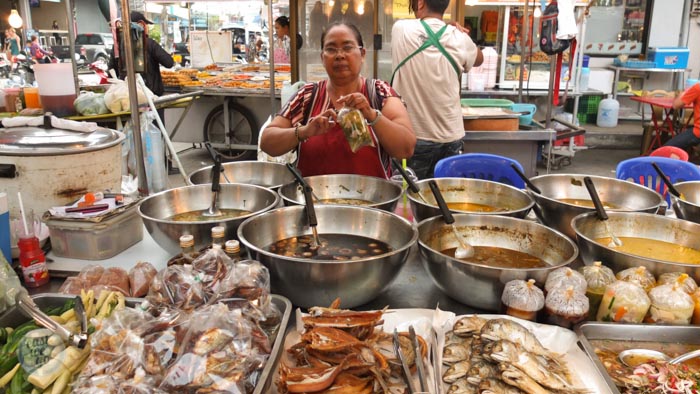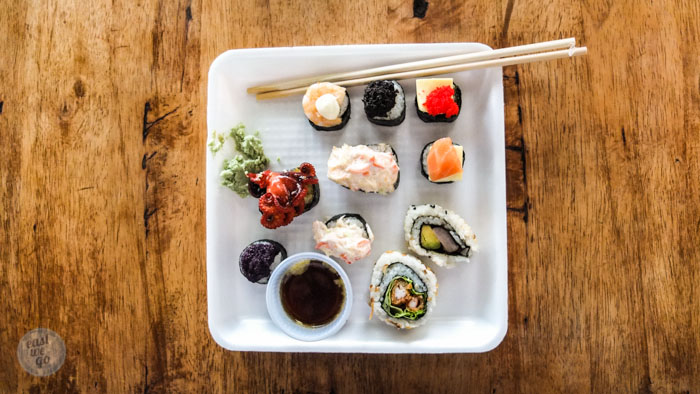 A different face of the island
Until the last day we did not give up discovering the island. We were still missing turquoise beaches and exclusive resorts, which can not lack in Thailand. And so we found it. On the north-east coast, with a new road leading to it (partially still under construction) there are three charming bays. The first one, more on the north, Haad Khuad has some potential and a decent white sand.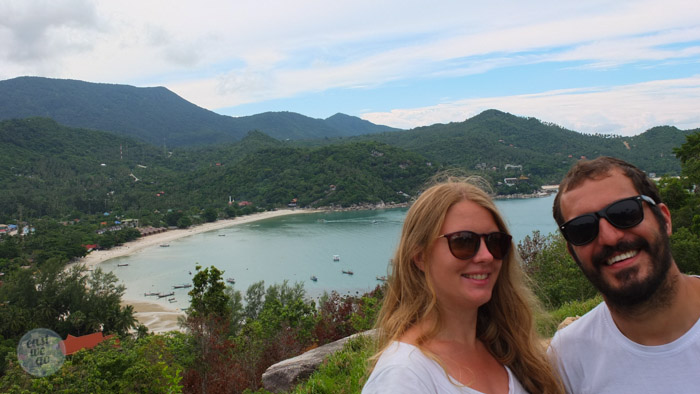 The next two, more to the east, Ao Thong Nai Pan Yai and Ao Thong Nai Pan Noi are really nice with some luxurious hotels, but still available for all.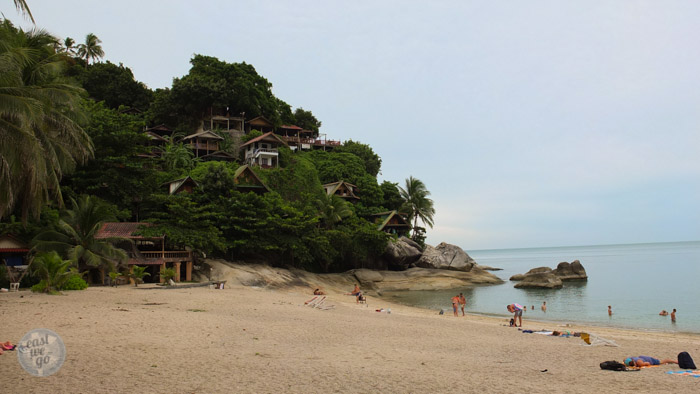 Despite the craziness connected with the Full Moon Party, Koh Phangan is a quiet, averagely interesting and quite pretty island. There are good spots to party, but also silence and tranquility to heal your hangover.
Magda
More photos from Koh Phangan here.