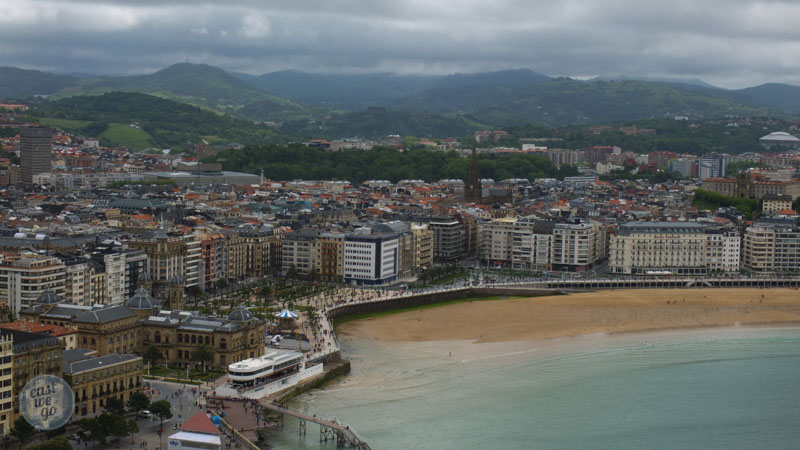 We are sitting by the Zurriola beach, the sun is finally shining. We are eating a tasty Campero sandwich from a nearby Campero bar, watching a body board competition that we encountered by coincidence. Four bikes are standing next to us, as our hosting couple Mayra and Aritz, very friendly and sporty architects, took us for a cycling visiting tour of the city. We were supposed to leave San Sebastián in the morning, but a sudden crush on city, made us stay and enjoy one more day in this wonderful place…
Just one day ago we were planing our exit from Spain and going from Bilbao to Biarritz in France, but a short stop in Guernika to check our e-mails changed our plans. It turned out that our friend in Biarritz could no longer host us, so we started sending requests for a night in the nearby cities. After couple of minutes we got an acceptation, and right after a friendly message to come any time we want. As we heard that San Sebastián is a very nice city, we quickly packed our computers and headed east to meet our hosts.
We parked our car next to La Concha, the main bay of the city, and walked in a rain along the coast. One hour later we met our hosts in the old part of the city and headed straight to a bar to hide from the rain.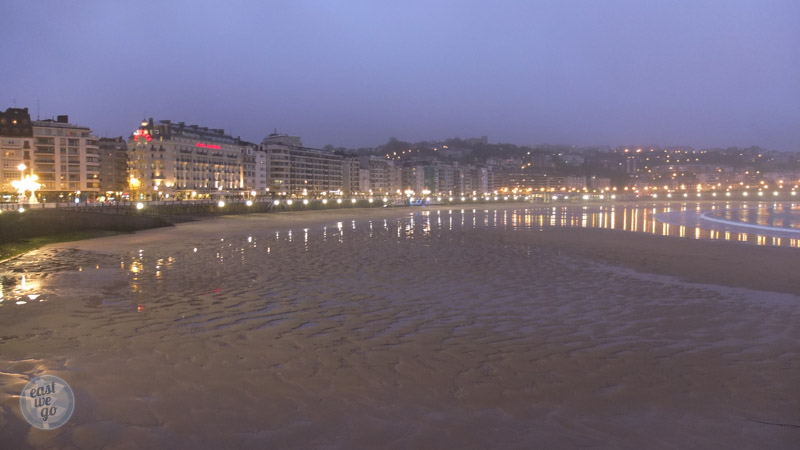 Later on, we followed our hosts to another bar. We entered a rather filthy place, with black shells lying everywhere on the floor. It turned out it was La Mejillonera, one of the most famous tapa bar in San Sebastián, famous for… surprise, surprise… mejillones (mussles).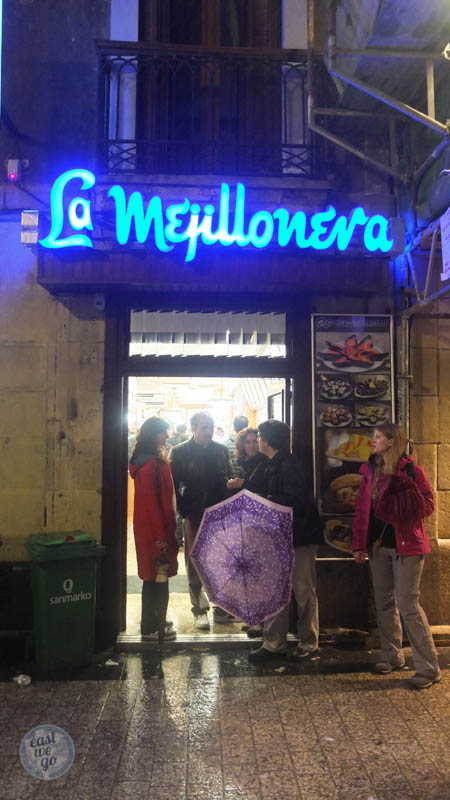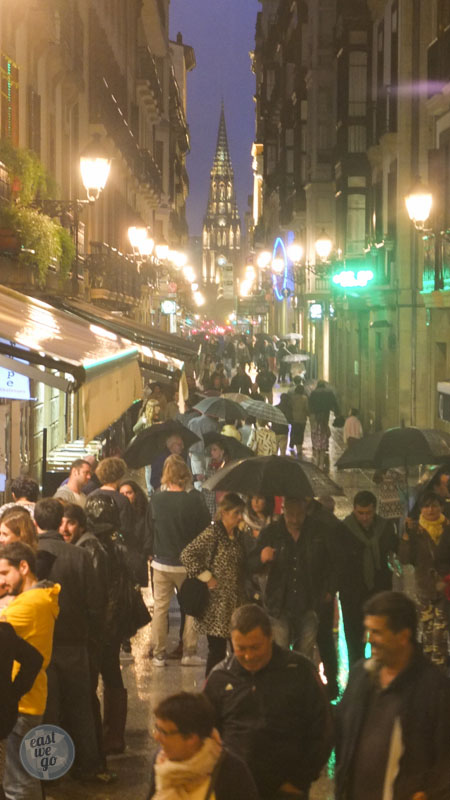 Back at Mayra and Aritz's home, we were stunned by the most unusual guestroom we have ever seen. The room was a small mezzanine located above the kitchen, hidden behind a wardrobe-like doors and accessible only by a construction ladder. It had a nice arabic decoration with big colorful pillows.
Sunday welcomed us with a bright sun and an invitation from our hosts to go for a cycling ride around the city. We promptly accepted and rode our hosts' bicycles though one of the many bicycle tracks that San Sebastián has all over. Our first stop was at the western corner of the city bay, next to a famous sculpture El peine del viento by Eduardo Chillida.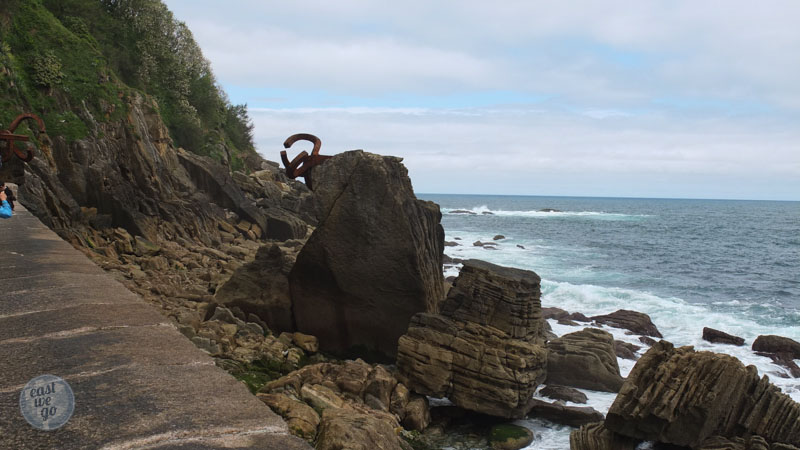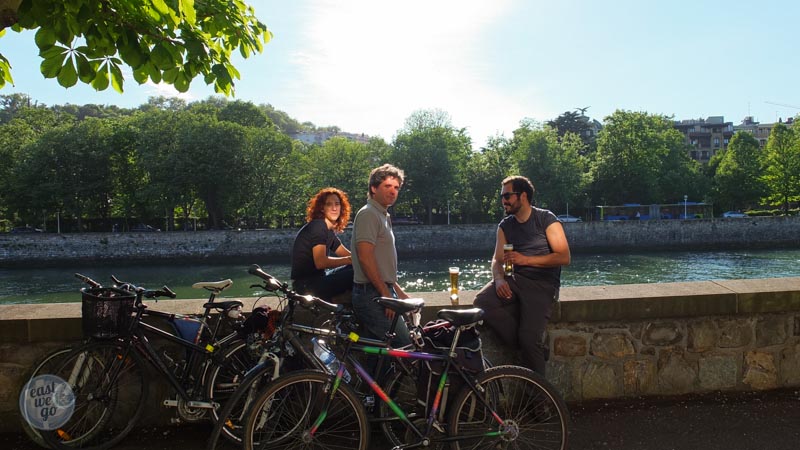 We followed the cycling track along the coast in a bright sun, same route we made the night before in pouring rain. When we reached the other side of the bay and passed by the Aquarium, we climbed the mountain with Castillo Kalea castle on the top to have a glimpse over the city. Cycling up the hill wasn't the easiest task for our unfit bodies. On the top, to get better views from a higher point, we entered a museum in the castle showing the history of San Sebastián. There we found out that in 19 century the city was almost totally burned by British and Portuguese, a fact that was later on brought back by our hosts in many jokes. As we went down, the big statue of Christ "watched our backs" from the top of the hill.
San Sebastián is a dream city for any bike lover. On the way back to our special room, we passed through the world's longest bicycle commuter tunnel. It used to be a railway tunnel, but after a new one was constructed, that one was prepared for this sole purpose.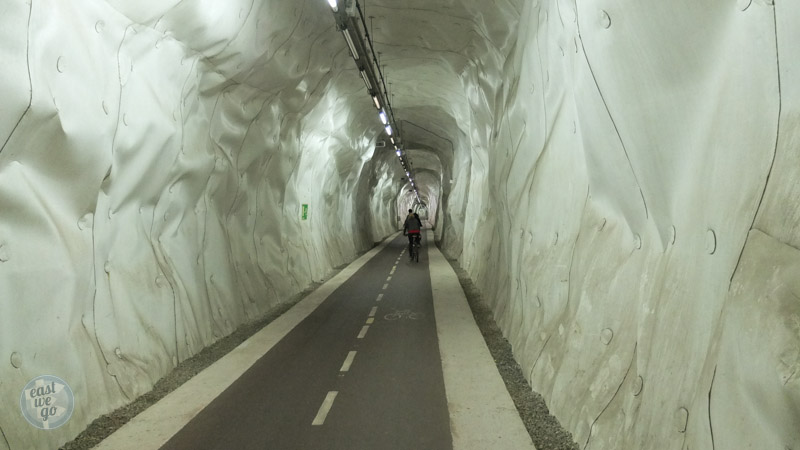 San Sebastián was an extreamly positive surprise, as initially it wasn't on our way. We recommend it to anyone looking for some fun is a seaside city, with plenty of things to do, good food and very friendly people.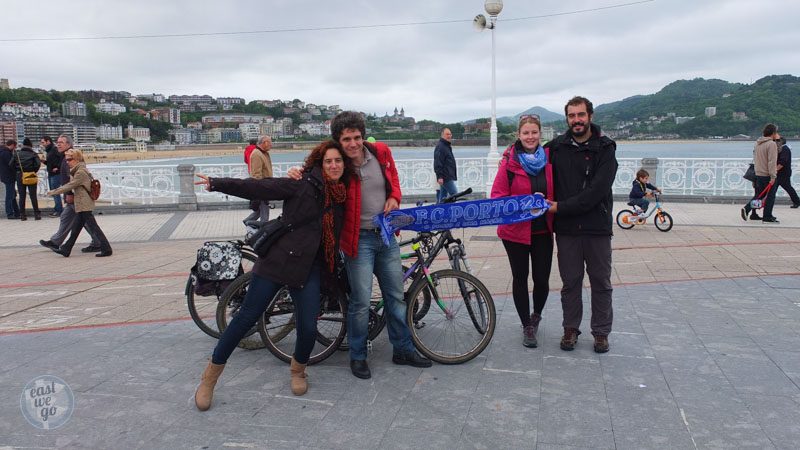 Magda and Renato
To make a hotel reservation in San Sebastian's click here